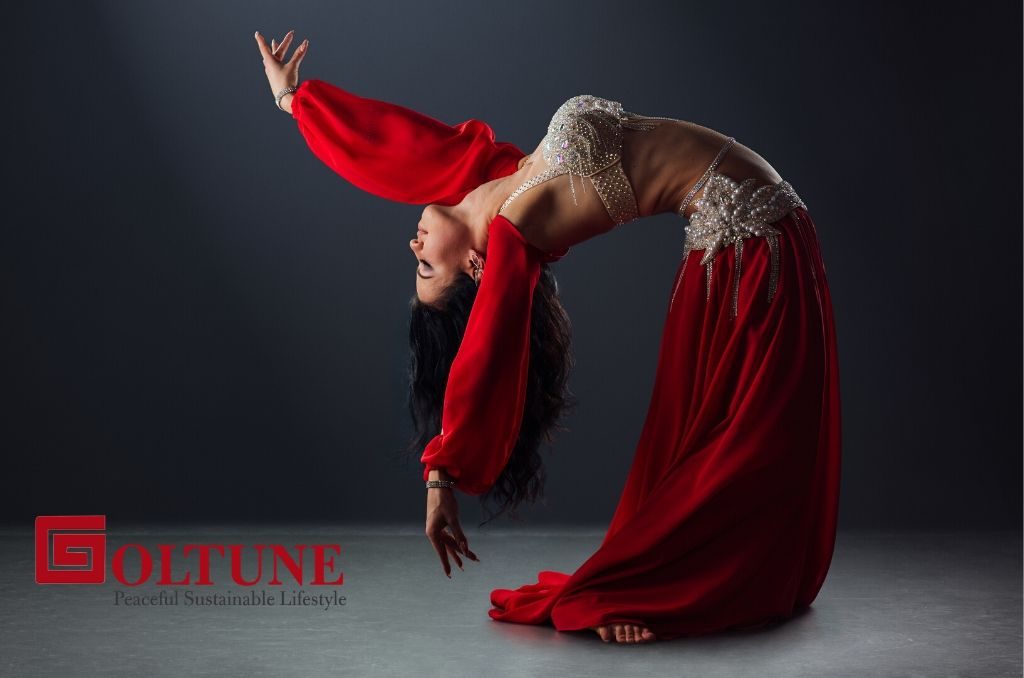 Belly dance is sensual, to be sure. But is it really any more risqué than Russian ballet or Spanish flamenco?
Yasmina Ramzy, founder of Arabesque Dance Company a school for Arabian dance and music in downtown Toronto, doesn't think so. To Ramzy, who has formal dance training and a great deal of mastery in Middle Eastern dance tradition, belly dance is art.
"I'll sit in an Egyptian living room with people in their late sixties and seventies who are highly educated and appreciate the art of it," she says. "And then you meet other people who find it haram and disgusting."
In the United States more women are looking to after-work and weekend belly dance classes to stay fit and (positive side effect alert!) tap into their sensual side.
Mary Kay Reinemann finds freedom and fun while dancing with other women at Euphoria Movement Art Studio in Madison, Wisconsin. "I was in my late 40s, pushing 50, when I got this idea that I might enjoy belly dancing," Reinemann says. "I couldn't shimmy my shoulders. At first I thought, oh, I could never do that. But what I learned is we could all do that. I have discovered muscles I never knew I had."
"It comes from such a different time and place where sexuality is more to do with fertility and birthing."
Soon she was hooked. "I'm having fun picking up tricks of the trade and my husband loves it. It's so fun to do something like this with other women."
It's really too bad some shimmiers get a bad rap for being improper and impure. So what if it is overtly sexual in nature? Even in Western cultures it seems there are too few "healthy" outlets in which a woman is encouraged to celebrate her body. Yes, even today.
Perhaps the Puritans are to blame. Our celebrities can parade around scantily clad and tweaking (thanks, Miley Cyrus). Is that liberation? Maybe. But then why are self-confidence and body image problems still so glaringly prevalent? Why are topics like sex and self-acceptance still so taboo when there is another way to look at it?
Belly dance for Fertility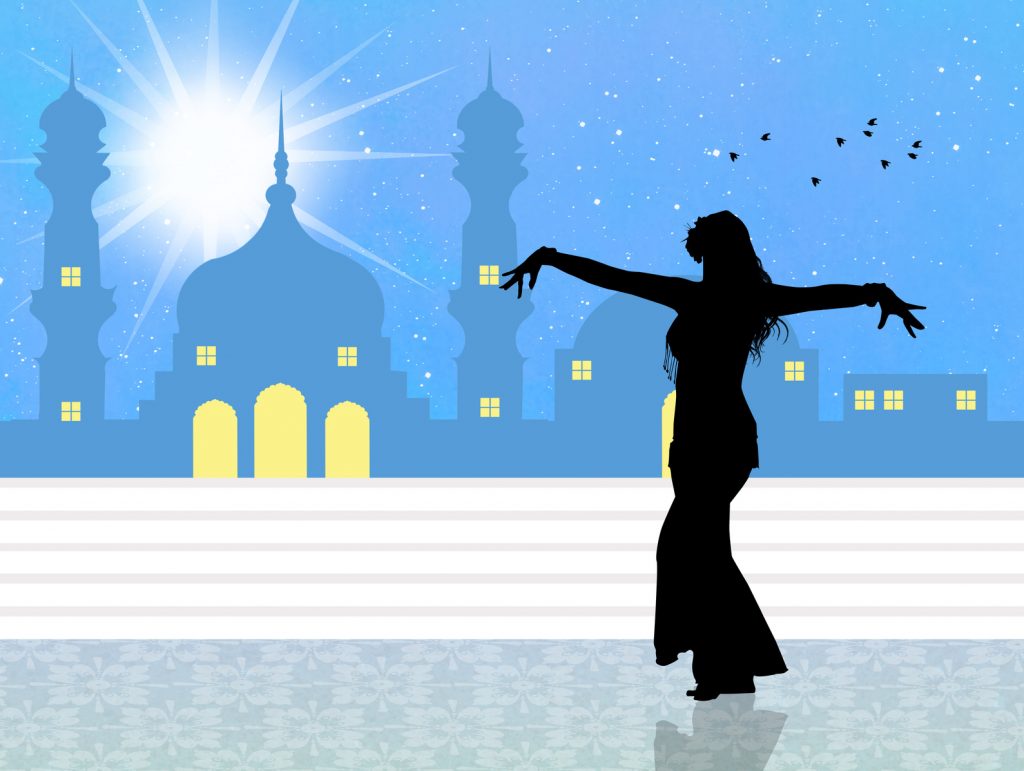 Long ago belly dancing was all about fertility. In her 2004 book Empire of the Islamic World, Robin Doak wrote, "Some stories say the dance dates back to pre-Islamic days when it was performed at weddings and celebrations. Others believe it may have developed as a way for pregnant women to prepare their abdominal muscles for labor and birth."
Belly dance (originating from the term 'raqs sharqi' in the Middle East) is overtly sexual in its very motion. Thus, the controversy. Doak points out, "In some Islamic countries today, Raqs Sharqi is banned or discouraged."
Ramzy could never quite grasp what makes her art so distasteful to some. After performing throughout the Middle East and studying with masters like Aida Nour of the Reda Troupe and Mohammed Khalil, director of the National Folklore Troupe of Egypt, Ramzy wanted to teach her native Canada what "real belly dance" was all about. She feels the notion of midriffs, veils and bells is misconstrued in Western countries most of all.
"It comes from such a different time and place where sexuality is more to do with fertility and birthing, and in that way, this celebration of the body is a very sacred thing," she says. "Really, sex is the most important part of life. It's what keeps things going."
"I've found that in the Middle East, even though women are veiled, behind the scenes it's much different," says Ramzy. "Middle Eastern women are more comfortable in their bodies, whether they are 6 or 86."
"Belly dancing is so much fun and it can be very empowering. Every movement comes from within you."
Perhaps it's because they embrace a community tradition like this. They live it and learn it from a young age. If belly dance is art, the body is a means of expressing it. It's not an object, not a work-in progress, but a unique entity that communicates stories and emotion.
Belly dance is sensual and for feeling good
Lots of dancers agree it's about feeling good in your skin. Gina Capossela, artistic director for the Raqs Salaam Dance Theatre in South Royalton, Vermont, says her youngest on-stage dancer is 8 and her oldest is an 88-year-old man from a retirement community (his wife adorably provides accompaniment on tambourine).
"I will say the women in their sixties do really well," says Capossela. "They are extraordinarily committed and established in their careers."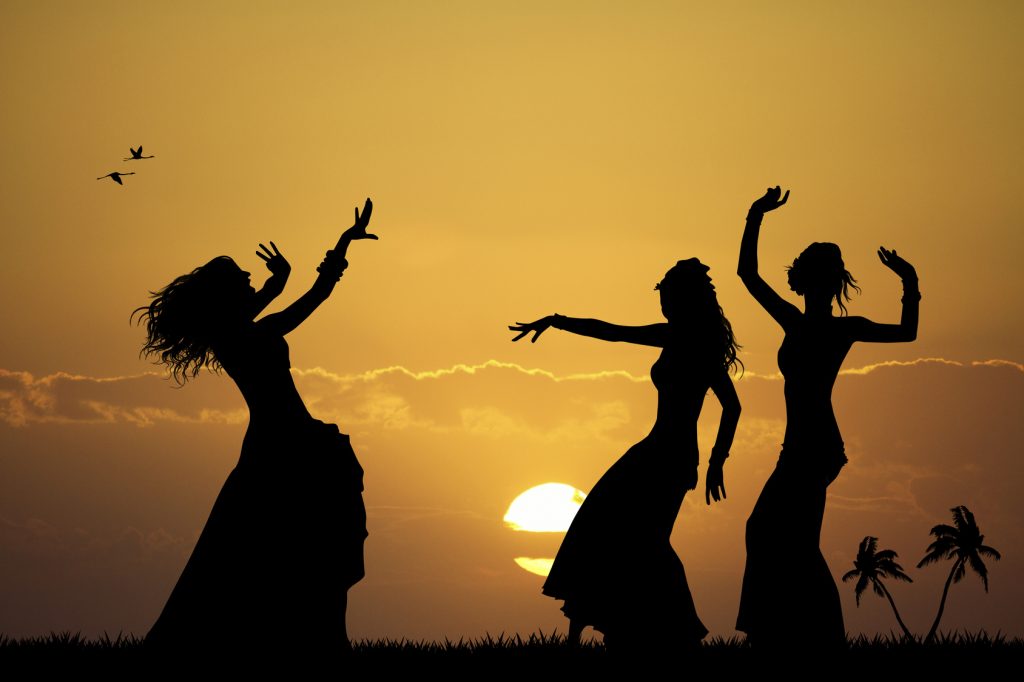 Capossela has been teaching Middle Eastern dance since 2002. For her, dance is a vehicle for personal growth. "In the Middle East there is a real respect for a womanly body," she says. "I put real women on stage. Women of all ages, shapes and sizes."
Ramzy hopes the new prevalence of classes and performance can help lift tired misconceptions tied to belly dancing. She says on many occasions young girls have called her up and expressed interest in becoming a dancer, but fear their families will disown them if they go that route.
"One time I was traveling with a very famous male belly dancer whom I brought to Canada," she shares. "Well, one girl had recently asked me this question and I didn't know what to tell her. So I thought, he's Muslim, I'll ask him what he thinks."
To Ramzy's surprise the performer simply said, "Tell her not to dance."
"This upset me, as a dancer and as a feminist," Ramzy recalls. "I was angry. I asked Why?! To which he replied, 'If she has to ask, she shouldn't be dancing.'"
Back in Madison, Mary Kay Reinemann gets out the jingle skirts when her nieces come to visit. They love the movement and music and celebration of it all. "Belly dancing is so much fun and it's so good for us," she says. "This is a very old dance, and I think it can be very empowering. Every movement comes from within you."
Consider for a moment, two average women. One woman hops on the treadmill for two hours a few times a week after work and the other vigorously moves her core to the music of finger cymbals, drums, and lots of laughs.
Who's more 'fit'? Who's having more fun?