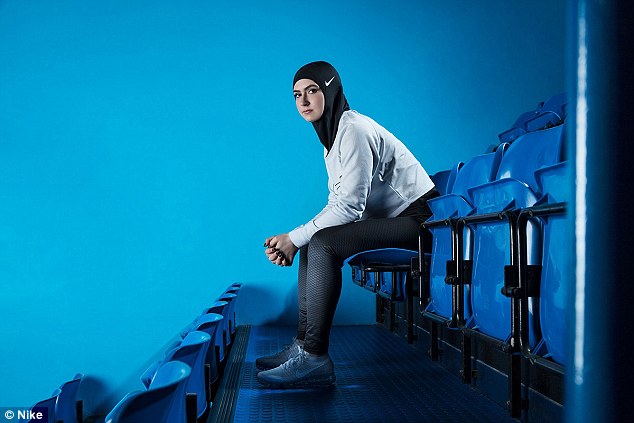 Nike's Pro Hijab design for Muslim women athletes named "the most important" design of the year.
When Nike unveiled its first high-performance pro-hijab sportswear, earlier this year, the reaction toward the product was mixed.  Many applauded the sportswear giant for recognizing the need of Muslim women athlete, while others accused the brand of 'cashing in' on a 'symbol of oppression.
In the world of fashion and athleticism, Nike's campaign to introduce hijab-friendly sportswear was one of the most-talked-about product of the year. And now, Nike's Pro Hijab design won the General Excellence category in the Innovation by Design Award run by Fast Company magazine.
Earlier last year, at Nike's headquarters in Beaverton, Oregon, designers were excited to tackle the challenge of creating a high-performance hijab that would make it easier for millions of Muslim women to do sports, according to Fast Co. Design digital magazine. But by crafting a product that was so deeply tied to the Muslim identity, Nike was wading into choppy waters. Within minutes of the product announcement, Nike's hijab had morphed from a swath of high-tech fabric into a symbol of the empowerment of women and, simultaneously, their oppression.
The product, which will be available in 2018, is constructed with single-layer Nike Pro power mesh.
Nike said it was inspired by a conversation with Emirati weightlifter Amna Al Haddad, who used to compete while wearing the hijab.
"[She] recounted how the garment's weight, the potential for it to shift during action and its lack of breathability disrupted her focus," Nike said.
"She also detailed her extreme difficulty finding performance hijabs; Amna had only one competition-worthy covering, so she had to hand wash it every night during competitions."
Al Haddad was one of the first to leap to Nike's defense when it came under fire for the controversial product.
"From my perspective as a former athlete who competed in hijab, in the past, the big brands didn't see the need or market for it as it was not 'popular' and it was unheard of to see women train, exercise and compete in hijab," the weightlifter wrote in an open letter on her Instagram page.