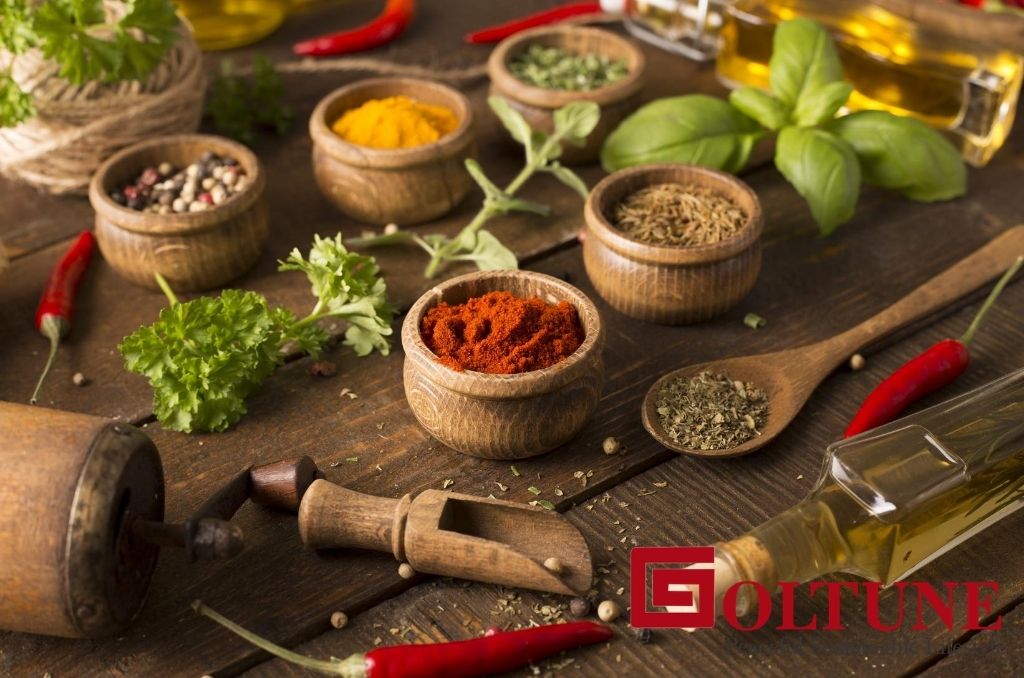 For the last three months I was craving falafel. Crispy round, fried, perfect falafel with a zesty tangy yogurt sauce and warm, soft flatbread akin to the pillows of angels. So I made falafel "finally" and it was heaven.
The two days after that I whipped up falafel nachos for lunch, I was very pleased with myself. This sandwich of sorts is just one vehicle for some famous Mediterranean spices: namely, cumin and coriander. But why stop there?
Hot on the heels of my latest falafel indulgence I decided to sniff out some other equally exotic, satisfying and healthful ways to jazz up my eats. Consider adding these 6 spices and blends to your cabinets Right Now!
SUMAC
What it is: Before lemons, there was sumac, a gorgeous reddish-purple berry that grows on a flowering plant. After harvest, sumac is dried and then ground to yield a spice that contributes a tart, acidic flavor to food.
How to use it: Sumac is bright and colorful sprinkled on hummus, and like lemons it is frequently added to kabob, chicken, rice pilaf, and onions. In medieval times sumac was prized for its medicinal properties. Even now it said to be one of the 10 highest antioxidant foods in the world, in the good company of cloves and acai.
HARISSA
What it is: This Tunisian chili pepper paste is comprised of sweet peppers and hot chilies, vegetable or olive oil, garlic and spices.
How to use: Wake up goat, lamb or fish stews with vegetables using this hot condiment. It will also make couscous pop. Rub it on meat or eggplants and let it marinate, or expertly top delicious, crispy fried falafel with the bright goodness.
I salivate heavily and promptly die whilst imagining the flavor infusion induced by this, mixed with some creamy tzatsiki sauce and thin slices of red onion atop a crispy falafel. Siracha, step aside. Harissa is the real deal.
ANISEED
What it is: A very old spice that is sweet and aromatic, with a hint of fennel/licorice at its core. If you're one of those who innately hate the flavor of black licorice (usually lurking in things like breakfast sausage, Jaegerbombs and well, black licorice), don't rule out the original spice. Give it a chance and play with different combinations and amounts to find just the right note. Maybe try something from here: 49 aniseed recipes.
How to use: Aniseed has many medicinal purposes, including easing period cramps and gas. In Egypt, nursing mothers add a tablespoon of aniseed to boiling water for hot yansoon tea. This is a tummy soother for both mom and the little one.
ZA'ATAR
What it is: Another popular condiment with a legacy that stems from ancient Egypt. Chef Yotam Ottolenghi recently gave the blend newfound fame with his 2011 cookbook Plenty and its follow-up Jerusalem where the awesome assemblage of thyme, oregano, marjoram, toasted sesame seeds and salt makes a cameo in dishes like Pureed Beets with Yogurt and Za'atar. Sometimes the blend also includes spices like caraway seeds and sumac.
How to use: dip your pillowy, warm pita in some olive oil followed by za'atar for crispy, flavorful goodness; sprinkle za'atar it into hummus or use it to liven up a salad beyond some-old standard salt & pepper. Folks in Oman enjoy a traditional herbal tea of za'atar steeped in boiling water.
CUMIN
I love cumin's nutty, earthy fragrance. It's so unique. Cumin is actually a member of the parsley family, and its most common variants are black and green, both frequent components of Persian dishes.
What it is: According to WebMD this spice is also recommended for people who struggle with digestive issues, and may help to relieve bloating, queue menstruation and ease painful cramps. Yummy cumin is also packed with vitamin E, which of course is good news for your skin.
How to use: Cumin has a pleasant fragrance. People in South Asia and Middle East usually add cumin to any kind of meats or beans.
CARDAMOM
What it is: Cardamom is a sweet little jewel of a spice that hails from the ginger family. It is the world's third most expensive spice by weight, after saffron and vanilla, and has a unique flavor that can be described as compellingly strong, yet delicate; sweet, yet powerful; with an almost eucalyptus freshness.
How to use: The flirty seed is a star in everything from coffee to curries to cakes all around the world'there's even recipes for cardamom ice cream. I like the gist of this recipe for healthy and zesty orange cardamom bran muffins. One of these with my coffee in the morning? Yes, please!
---
| | |
| --- | --- |
| We have a small favor to ask. | |
Goltune is editorially independent, meaning we set our own agenda. Our agenda is to show that women from everywhere, including Muslim-majority nations, have the same aspirations, agency and tenacity as everyone else. No one edits our editor. No one steers our opinion. This is important as it enables us to stay true to our values.
Every contribution we receive from readers like you, big or small, goes directly into funding our journalism. Please support Goltune, large or small. Thank you.
Send your contributions to our PayPal account: [email protected]