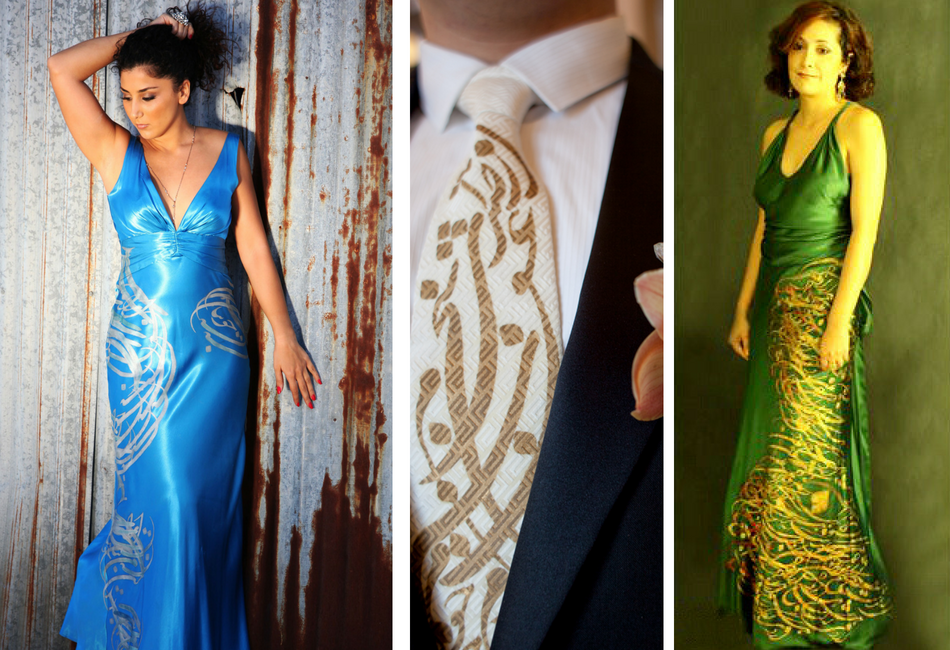 There is a contemporary style of calligraphy that some Muslim fashion designers use to create new line of collections. Farsi and Arabic languages are particularly well-suited to the form as the letters, which are composed of dots, lines, and curves are functional but also visually pleasing. Even those who do not understand the language can enjoy how it looks.
For Muslims, calligraphy is very much a visible expression of the spiritual world. Even in today's digital age this beautiful writing continues to evolve in classrooms, online, and in the modern Islamic art scene.
In a blog titled White Room Covered in Farsi on MyModernMet.com shows just how innovative calligraphy can be. The piece describes Germany-based Iranian artist Parastou Forouhar's ongoing series known as Written Room.
In the exhibit Forouhar scrawls beautiful, black, large-scale lettering atop stark white walls, floors, ceilings and doorways. The script crawls and flows. It's a striking effect that illustrates old-meets-new, sadness and whimsy. It is in fact how Forouhar describes her own experience as an immigrant, stating "I feel at home in Germany but, at the same time, not. I feel at home in Iran and then not. What I'm doing with my art is just cultivating this space in between."
CalligraphyQalam.com explores the history of the craft, explains the tools artists use, features videos and shows examples of ancient and modern works. The website's founder and graphic designer Elizabeth Kvernen says she has seen the number of websites and apps devoted to Arabic script calligraphy and Islamic art grow exponentially in the last couple of years.
Artist Majid Roohafza respects classic tradition, but he can't resist taking his art somewhere new. The accomplished calligrapher was nine years old when he began dabbling in ink.
As a child at school Roohafza was encouraged in his talent by some of Iran's top calligraphy masters. He recalls: "It was so enticing and captivating, and I loved to learn that! I was following those directions of calligraphy and I just happened to be good. I had a good hand and passion to fall in love with that practice."
Inspired by nature, Roohafza is specializing in Nastaliq and Cursive-Nastaliq, the two forms of Persian calligraphy. Besides performing in classic and abstract, he turned to fashion, fabric, and the male and female forms, with its own series of beautiful and strong lines. He wants to create casual clothing that "brings calligraphy to everybody and every budget."
He is also working on more personalized, custom-made pieces that are adorned with hand-made poetry and fine fabric's lovely gowns created in the course of an interview and consultation. The high end gowns are a throwback to old Hollywood days.
The video below shows the start and finish of his art on fabric.
#IslamicArt #Muslimfashion #FashionDesigner