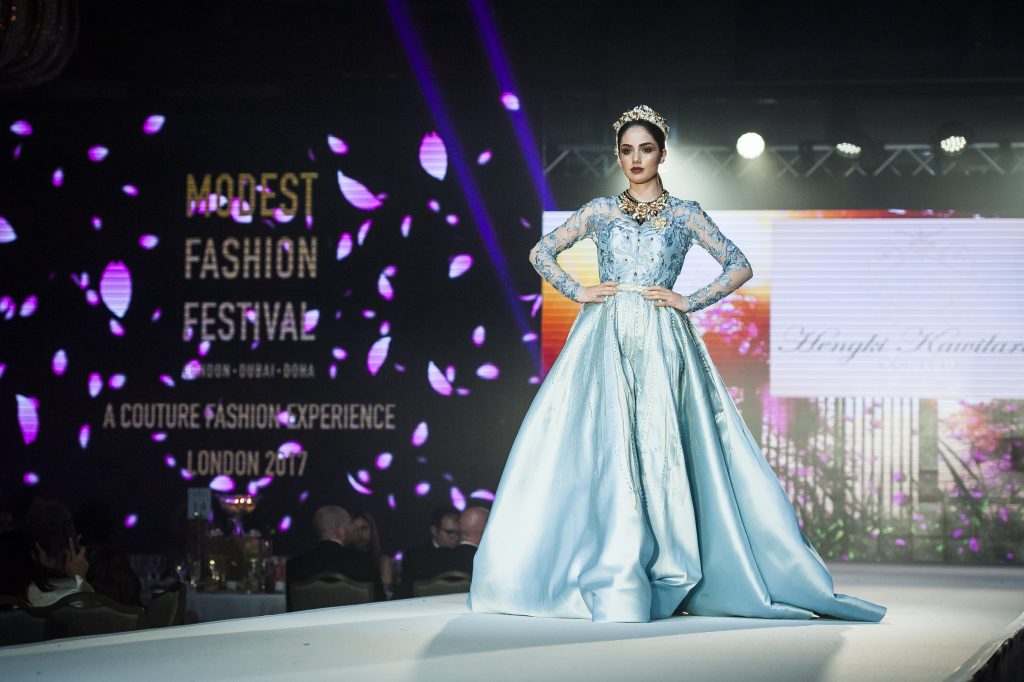 By Tal Imagor
Modest Fashion Festival in London presented seven Muslim fashion designers with spectacular taste.
The Modest Fashion Festival in London debuted last Saturday, presenting seven designers over the course of three hours, in the Grosvenor House Hotel in Central London. This is the first of a series of events, planned to take place across Europe, the Middle East and Asia, with Dubai and Doha as the next stops.
The black tie, British dress code for evening events, which also included a red-carpet reception, a five-course dinner and a charity auction, was clearly directed at the higher end of fashion consumers.
The show's most earning applauses were British Raishma's design at the closing of the first set, and the Indonesian Hengki Kawilarang's collection at the opening of the second set.
"Modest fashion has always been aimed at highstreet level and that's great," says Sultana Tafadar, the co-founder of the festival. However, she explains "there is a growing professional class of Muslim women who have the disposable income and want to wear luxury couture outfits." The ballroom at the Grosvenor House Hotel was full of celebrities, ambassadors, politicians, lawyers, doctors, engineers, wealthy British businesspeople and even some royalty. Some of the familiar faces were lawyer-turned TV personality Robert Rinder (Judge Robert) and Doreen Delceita Lawrence, Baroness Lawrence of Clarendon. "We want to see what we can offer them," said Sultana.
When coming up with the idea for this festival, Tafadar, a lawyer specializing in human rights and co-founder Dr Farheen Mira, tried to fix a problem in their own lives. "As a lawyer, I find it very difficult to dress myself when I go to court or to black tie events," Tafadar says. Even for her own event she found it difficult to find a dress. "I did a mad dash around south Regents and Harrods and I couldn't find an outfit".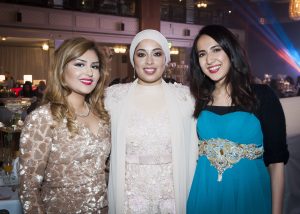 Luckily, Mira Indria, one of the designers from the show itself, helped Tafadar at the last minute, providing her with a shimmering lilac dress, embroidered with flowers, with a matching sheer, long-sleeve top, and head scarf. 
On the catwalk as well in the audience, every piece reflected the choice to showcase high-end and luxury. The moroccan designer Meryem Boussikouk kicked off the evening, with a bright and colorful collection. Mira Indria (Indonesia) followed with a flowery bridal collection, while Vivi Zubedi (also Indonesia), showcased a mixture of colors and patterns. Amal Al Raisi (Oman) introduced a range of flowing fabrics and Bthaina's (Oman) line sparkled to the sound of Rihanna's "Diamonds". But the two shows earning the most applause that night were the one closing the first set, Raishma (UK), and the one opening the second, Hengki Kawilarang (Indonesia), both showcasing intriguing combinations of fabrics, colors and styles.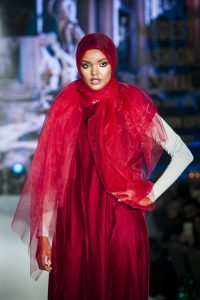 Halima Aden, the first hijab-wearing supermodel, opened the catwalk and was featured in four of the seven runway shows. The Somali-American is signed with IMG model agency and walked the runways in Milan and New York, as well as appearing on the cover of Allure. She was clearly the star of the festival on the stage, and off it, as she was being mobbed for selfies at every turn. Mariah Idrissi, the UK's first hijab-wearing model with a major campaign for H&M, also attended at the festival. Yet her presence was missing from the catwalk.
Hoping to be more than a trend
From the seven designers who presented their collections, only one was actually British. Raishma welcomes that fact, and says it's important to show diversity. "In other shows it's not as international as it is here," she say. "You get a lot of Indian and Pakistani designers, but here you've got designers from Indonesia and Oman. They don't get to have that kind of press coverage and platform usually, so it's a big deal." In fact, Raishma says she was the only British designer who was invited to the show, and that's only because her work fit the aesthetics.
Modest Fashion Festival is not the first event of it's kind in London. In February, The Saatchi Gallery launched the first London Modest Fashion Week, and not long after, Modanisa held another similar event in Olympia. So it feels that Modest fashion is becoming somewhat of a trend right now.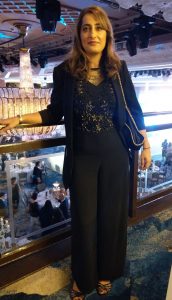 To that, Raishma says "I do think it's slightly faddish, but I also think it's a time when it's being accepted. The world is so diverse now, anywhere is so multicultural, you can't get away from it." As a British, Muslim, Indian woman herself, Raishma say "it's really nice being accepted, being taken on by the highstreet and understanding they have a mixed clientele. Other fashion brands are also understanding that now, and I think it's only going to grow."