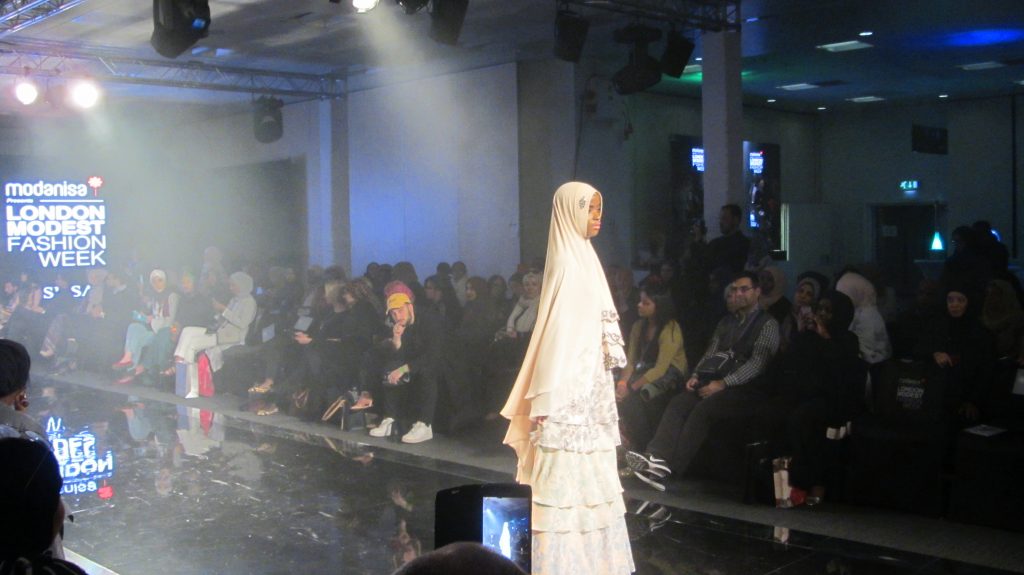 Summary: Halima Aden, Rabia Z, and other top names in modest fashion put on an unforgettable show at London Modest Fashion Week
Writer: Tal Imagor
London Modest Fashion Week (LMFW) concluded yesterday after showcasing over 20 different designers from the UK, France, Indonesia, Malaysia, Turkey, the UAE and the USA, among others. The event, which took place in the Olympia Conference Centre, took place  over the course of two days and six runway shows. It included inspiring panels from the participants and featured sales booths overflowing with the work of various designers.
LMFW is sponsored by the online retailer Modanisa. The event made its debut back in May 2016 in Turkey. Rabia Z, Founder and Creative Director of a pioneering global modest fashion brand, attended both events. "When I went to Modanisa Istanbul Modest Fashion Week, the first of its kind, I almost wanted to cry," she says. "To see everyone together and to see how big we [the modest fashion industry] were as a group, was a proud moment for me."
Another very proud moment for LMFW, one that everyone was talking about, was when Halima Aden walked the opening catwalk. Aden is the the world's first hijab-wearing model, and has already walked in Milan and New York.
"For such a long time I wasn't seeing any Muslim women in fashion," says Aden, "And today everyone [is Muslim] — from the guests to the beautiful models and designers. It was such a huge moment for me." Seeing Aden was a huge moment for others, as well. Iman Aldebe, a fashion designer based in Sweden, told Aden, "I think you're a big inspiration for many people."
Unlike Aden, not every model on the runway wore a hijab. Some designers chose to showcase their modest wear without any headdress. Others, like Aidijuma, showcased their headdress by combining it with affordable clothing from Malaysia and the UK. The different shows featured clothing that ranged from luxurious ball gowns and evening-wear (Som Fashion and Norish Kareem), to swimwear (Mayovera), sportswear (Under Wrapt) and even some children's clothing (Jubahsouq). The designs also had a wide range of modesty to them — some offered loose fitting and multi-layers, while others were tailored to the model's figure and even showed some skin.
Franka Soeria and Özlem Şahin, members of the advisory council and creators of LMFW, explained the variety. "The way of thinking of modestly is very different [in different countries]," Şahin said. And the aim of LMFW is to create a global platform, showcasing and embracing those differences.
Soeria added that they hope to expose modest fashion to a mainstream audience. "It's a new style and everyone can wear it," she says. "Some people like pop, some people like jazz. [In fashion] some people like open skin, some don't like to show their skin."
Modest fashion is rapidly becoming more mainstream, as we can see from the case of the Indonesian designer, Anniesa Hasibuan. Hasibuan first showcased her collection in Modanisa Istanbul Modest Fashion Week, and from there, went on to present at New York Fashion Week this past February. There, she made history by becoming the first ever designer to feature hijabs in every outfit of her collection.
It's Not Just About Clothes
As much as LMFW was about the designs and runway shows, it also focused on influencers and fashion bloggers who flew in from across the globe. Leena Asad (also known as @withloveleen), an American/Palestinian fashion blogger with 435k followers, flew in from Texas. And Soha Taha (@SohaMT), an Egyptian-style influencer with 230k followers, joined from the UAE. All influencers came with the purpose of watching the runway from the front row. But most also came with the purpose of empowering Muslim women, and especially hijab-wearing women, who often get dismissed by mainstream media.
YouTube vlogger and designer Nabiilabee spoke about Anniesa Hasibuan when explaining the struggles of wearing a hijab in the fashion industry: "Even after she's done that (showcased in New York Fashion week), it's still hard for other Muslims to get in [the industry]. She's still not getting as much press as non-Muslim, or non-hijabi women have in the media."  As for her own work, Nabiilabee shared that it took her a long time to be taken seriously by brands, and says she was even dismissed in several occasions during her studies in fashion school, just because she wore a hijab.
Melanie Elturk, the owner of Haute Hijab and a columnist for Elle USA, added that the current social media presence of Muslim women is "about a movement, and really empowering Muslim women." It's about creating a community across the globe, with the intent to  "instill confidence in hijab-wearing women in particular."
LMFW was all about gathering Muslim women in fashion together,; showcasing modest designs they can wear proudly, offering them the support of the fashion community, and helping them make new connections. It was less about being included by mainstream fashion, and instead aimed at creating a unique platform.
Soumaya Douiri, the founder of StyleOfArabia.com, says that this is one of the next steps the industry should consider: "I think the next challenge for modest fashion is to unite. Because if you're a Jew or Christian, we all wear long skirts and try to cover ourselves."
---
Goltune is editorially independent. We set our agenda. No one edits our editors. No one steers our opinion. This is important as it enables us to stay true to our values.
Every contribution we receive from readers like you, big or small, goes directly into funding our journalism. Please support Goltune, large or small.
Send your contributions to our PayPal account: [email protected]
Or, Click the link to pledge your support.
Thank you,
Goltune Editorial Team