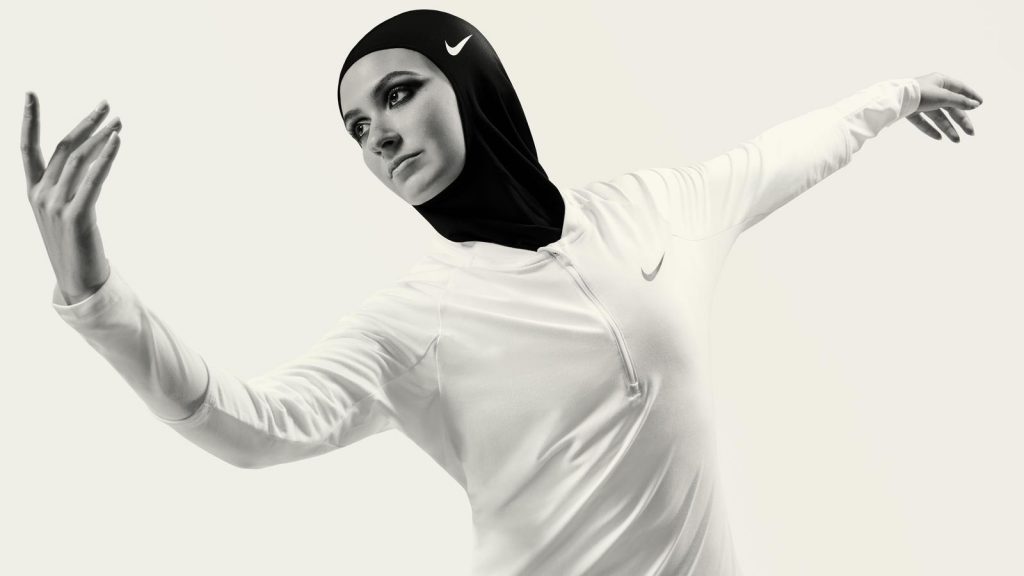 Muslim women athletes showing lots of interests toward Nike's Pro-Hijab sportswear. 
To meet the growing demand, more fashion brands and retailers are expanding their offerings to cater to the flourishing new market of fashionistas in search of full-coverage garb.
Sportswear brand Nike was way ahead of the curve when it launched its first-ever hijab back in December 2017. Now, back by popular demand, the brand has unveiled a new version of the performance wear piece in a new colorway.
The data analytics firm Edited reveals that the demand for modest fashion "is expanding outside of the UAE and seeing growth in the western world with a 15 percent increase since 2017," WWD reports.
Nike Press release – The Nike Pro Hijab has been a year in the making, but its impetus can be traced much further back to Nike's founding mission, to serve athletes, with the signature addendum: If you have a body, you're an athlete.
The brand has underscored this commitment with the introduction of Middle Eastern stores, collections inspired by Nike's roster of elite female athletes, women's races, Nike Run Clubs and the NTC App in Arabic.
Over recent years, meetings at Nike World Headquarters in Beaverton, Oregon with top-flight athletes have illuminated performance problems associated with wearing a traditional hijab during competition. For example, Amna Al Haddad a female weightlifter from the United Arab Emirates recounted how the garment's weight, the potential for it to shift during action and its lack of breathability disrupted her focus. She also detailed her extreme difficulty finding performance hijabs; Amna had only one competition-worthy covering, so she had to hand wash it every night during competitions.
Nike's design team combined this information with existing Nike innovations to create the initial prototype hijabs, which they seeded to the weightlifter and a variety of hijabi athletes for wear testing.
The women came back with a range of feedback, which laddered up to the desire for an even lighter, softer garment.
Equipped with this collected insight, the Nike Pro team (which is responsible for creating athletes' base layers) examined how to make a performance hijab similar to Nike Pro's other products: inconspicuous, almost like a second skin. More prototypes were crafted with this goal in mind.
These new garments were again wear tested by elite Nike athletes, like the groundbreaking Emirati figure skater Zahra Lari Everyday athletes from around the Middle East, including runners and cyclists, also assessed the hijabs. Nike gathered both the athletes' performance feedback and their reactions to the garment's aesthetic. As each country has its own particular hijab style, the ideal design would need to accommodate variances. The brand also solicited the opinions of advocates and local communities to ensure the design met cultural requirements.
The evolved prototypes received an enthusiastic response and a final request to modify the fit to account for a range of face sizes and shapes. In lieu of adding an adjustment mechanism that would increase weight, the designers sized the head covering to XS/S and M/L. After further dialing in the details and conducting additional rounds of wear testing, the Nike Pro Hijab was complete.
The final, pull-on design is constructed from durable single-layer Nike Pro power mesh. Nike's most breathable fabric, the lightweight polyester features tiny, strategically placed holes for optimal breathability but remains completely opaque, with a soft touch.
The mesh is also stretchy, so when combined with an elastic binding it allows for a personalized fit that adapts to both the wearer's head and her sport. Ice skating, for example requires a tighter fit for twirling. The back of the hijab is also elongated to ensure it doesn't come untucked. Fluff threads were used at the neck to eliminate the rubbing and irritation that can occur when an athlete sweats.
At the request of the athletes, the designers placed a signature Nike Swoosh just above the left ear to highlight the hijab's pinnacle performance nature. The hijab's debut colors: black, vast grey and obsidian, were similarly based upon the consulting athletes' desire for dark neutrals.
By providing Muslim athletes with the most groundbreaking products, like the Nike Pro Hijab, Nike aims to serve today's pioneers as well as inspire even more women and girls in the region who still face barriers and limited access to sport: Fewer than one in seven girls participate in locally recommended sport activities for 60 minutes or more.