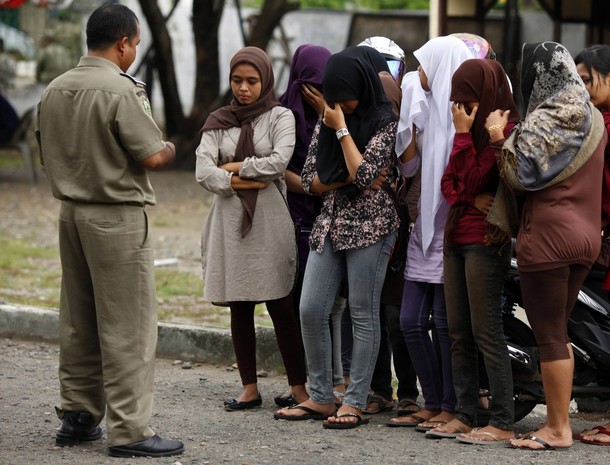 Source: India.com
Sharia police set up checkpoints to implement Islamic law across Indonesia's Aceh province on Thursday.
Jakarta, Aug 24 (IANS), The checkpoints are part of a program conducted monthly by the Sharia police, a department under the Ministry of Religious Affairs, reports Efe news.
 A group of women stood in front of the police personnel who informed them that tight trousers, such as ones they were wearing, are prohibited.
At the checkpoints, known locally as "hot spots", those found breaking Islamic law, such as men wearing shorts that end above the knees or women failing to wear the veil or hijab, have their identities recorded in the "Book of Sins".
Those whose names have been recorded in the "Book of Sins" three times will be sent to the Sharia Court.
First-time offenders will join lecture session conducted by the Ulema, a body of Islamic religious leaders.
Aceh is the only province in Indonesia that applies Sharia law, under an autonomy deal, following a conflict lasting decades between the central government and the separatist Free Aceh Movement.
This is published unedited from the IANS feed.