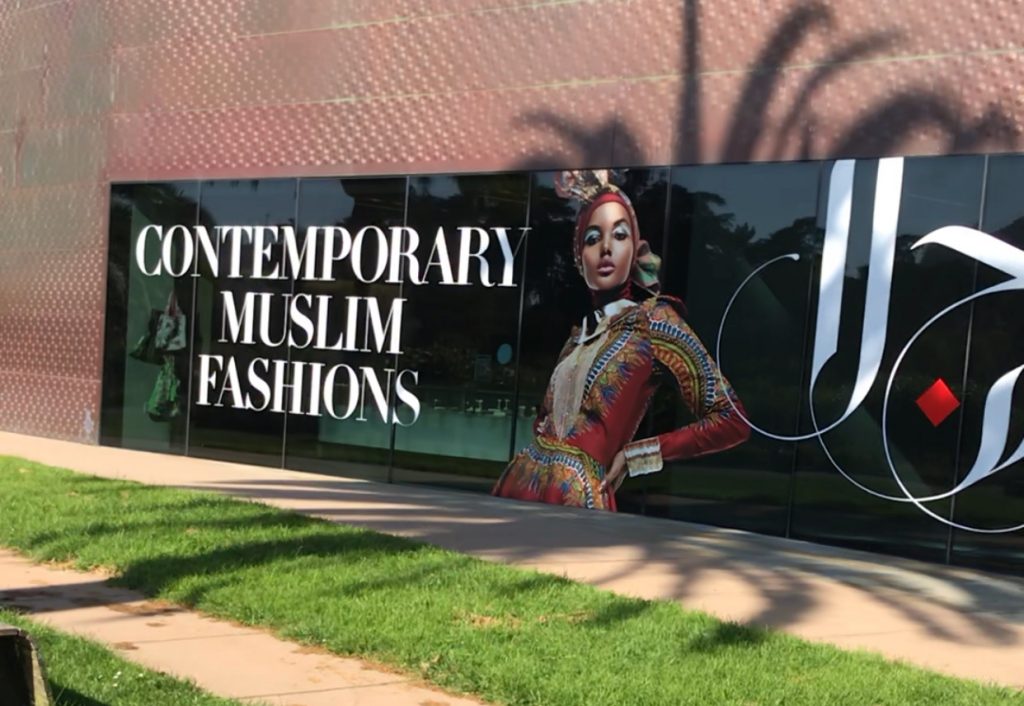 Writers: Sara Jamshidi, Amjad Parkar
The vibrant and cosmopolitan city of San Francisco, with its significant Muslim population, provided a stunning and appropriate backdrop to an in-depth exploration into the origins of the modest fashion movement and its influence on the fashion industry as a whole.
Held at the city's de Young Museum – managed by the Fine Arts Museums of San Francisco – the Contemporary Muslim Fashions exhibition aims to understand how fashion and dress play such an important role in the lives of Muslim women, whether they cover up or not.
To demonstrate how the individual nature of the Muslim community is also reflected in the array of styles worn by Muslim women, the exhibition focuses on fashion trends in the context of the various interpretations of modesty as well as cultural influences.
Contemporary Muslim Fashions features 80 ensembles of high-end fashion, streetwear, sportswear, and couture as well as accompanying photographs that provide further context to the garments on display.
The exhibition itself is split into several galleries that introduce the $44 billion modest fashion industry, focus on specific garments such as the headscarf, explore the impact of social influencers on the industry and showcase the various regional and cultural hubs of modest fashion.
There was little doubt among the industry professionals in attendance at the opening of
Contemporary Muslim Fashions that the exhibition was important in highlighting the influential role that modest fashion plays in the daily lives of Muslim women.
"For many of those women, and for many of the designers and brands that we are showing here, modesty is a component of how they choose to style themselves. But it is not the only component and indeed, there will be some women that do not particularly think in terms of modesty," Reina Lewis, consulting curator and Professor of Cultural Studies at the London College of Fashion, told Goltune News.
"A niche market in modest fashion has emerged, often led by women within religious communities or religious cultures, whether they are Jewish, Christian or Muslim, who couldn't find what they wanted within the shops for themselves or their teenage daughters. What became clear very quickly was that this was been enabled by the Internet, so it was much easier to start a niche business, whatever is that you are making. And the Internet also allowed clients from outside of those communities to access those brands."
Lewis found that the Internet helped create a community of modest fashion bloggers of different religions who helped provide guidance and inspiration online.
Contemporary Muslim Fashions will also help better educate the Western world and media about Muslim women, said Gisue Hariri, co-founder of architecture firm Hariri & Hariri Architecture  which designed the exhibition's galleries.
"Women in the Muslim world do have tremendous respect, have tremendous power, have
tremendous influence. And we can see that in the younger generation, especially the way the present themselves. Clothing is one of the things they identify with. To be a modestly dressed woman is no contradiction to being a modern and progressive woman," she told Goltune News.
Designers whose collections were being exhibited at de Young Museum felt they had a prime opportunity to demonstrate the vibrancy of the modest fashion movement.
"I think it is an amazing opportunity for us as Muslim designers to show the beauty of hijab, because people's perception of hijab sometimes – they say that it is a form of oppression for women," Indonesian designer Dian Pelangi said.
"This is our chance to show the world the beauty of hijab itself. and also we want to give a different perception about Muslims women – that we can still wear fashion, we can still be colorful, we can look beautiful because of the hijab itself."
She added that the main goal of the designers was to bring modest fashion into the mainstream.
For American designer Saba Ali, of Style by Design, Contemporary Muslim Fashions should be seen as a "groundbreaking" exhibition.
"You see the richness of each individual piece and the different styles, but it is tied together under the umbrella of Muslim fashion; that is very new. I think this notion of Muslim American culture is very new and very unique and it is very rich because it draws from all these different cultures. While I think [the organizers] are trying to keep [the exhibition] to Muslim designers – they are very specific about that – I think modesty can apply to different cultures and people even do not have to be doing it for religious reasons," she said.
Paul Gallyot, who owns local radio channel KWMR, said the exhibition had helped educate him about modest fashion trends.
"I recently came from a Jewish Museum which also had a similar exhibition that showcased traditional Jewish clothing. It is very similar to the concept here. I think this exhibition explains that the Muslim women don't need to be just in black. Hopefully people from outside of this region and those people who have closed minds will understand [Muslim culture better]."
Okky Asokawati, who models for Indonesian designer Itang Yunasz, agreed the exhibition would also help combat negative stigmas associated with the Muslim community.
"With this kind of exhibition, people get to know more about the Islamic way through fashion," she said.
Yunasz, known as a father of modest fashion, discussed how he develops his creations with Goltune News.
"I choose my designs ready to wear, easy to use, because for the modest wear you need more space; you need more looseness for sizes and everything. I use silk, chiffon and something that is light to make the hijabi woman comfortable with her choice," he said.
Goltune News will be bringing you further coverage of the workshops that will explore Muslim
fashion trends in further detail as part of Contemporary Muslim Fashions' program of accompanying
events.