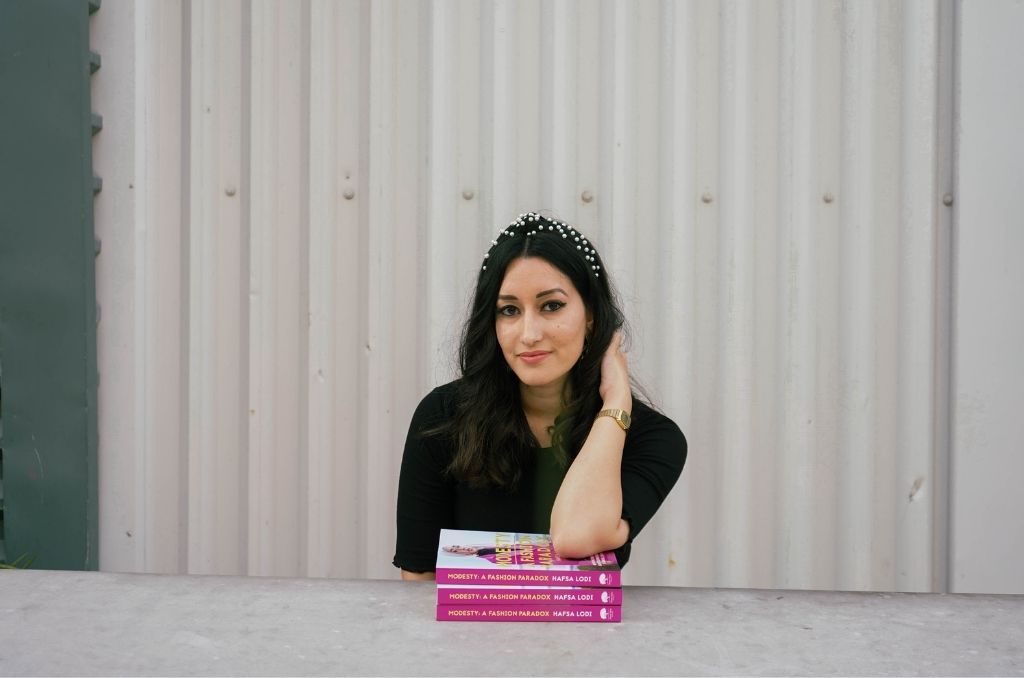 Hafsa Lodi is an American journalist who has been covering fashion in the Middle East for the past decade. She was born in New York City. At the age of 14, she and her family were relocated to the United Arab Emirates. Hafsa holds an undergraduate degree from the Ryerson School of Journalism in Toronto, and graduate degree in Islamic Law from the University of London, School of Oriental and African Studies.
We talk with Hafsa on Tuesday, September 8th, at 12 noon, PST (Seattle local time). Watch the interview here: https://www.facebook.com/GoltunePeaceJournalism
Modest fashion has been gaining momentum in the mainstream global fashion industry over the past half-decade and is now a multi-billion-dollar retail sector. Its growing and now consistent appearance on high-profile fashion runways, on celebrities and in the headlines of fashion publications and news outlets, has shown that the modest fashion movement is hugely relevant to consumers.
This is particularly true for millennial who are attracted to the feminist influences behind concealing your body, follow faith-based dress codes, or are attuned to social media, where more and more modest fashion bloggers are using imagery to inspire their followers.
While the movement can credit European high fashion houses, like Gucci, for making conservative dresses and layering "in style" and "on trend," and subsequent Western labels like DKNY, H&M and Mango for dabbling in the realm of modest wear, it is the newly emerging group of faith-influenced fashion brands who are driving the revolution, along with a new crop of Muslim fashion bloggers. These have helped catapult demure dressing trends globally.
This book speaks to the various personalities and companies who have helped shape the modest fashion industry into such a significant retail sector, while also exploring the controversies that lie at the heart of the movement, such as one pressing question: even if it covers the skin but is flamboyant, modeled with the purpose of attracting attention, and publicly promoted on social media, can fashion truly be modest?
---
Modesty: A Fashion Paradox:

Uncovering The Causes, Controversies And Key Players Behind The Global Trend To Conceal Rather Than Reveal 

By Hafsa Lodi
---
Interview with Hafsa Lodi for Peacemindedly Podcast
(Will be published on Sep. 10)
---
Modesty: A Fashion Paradox teaser
Sara Jamshidi, producer for Peacemindedly
---
YouTube Raw Footage of the Conversation with Hafsa Lodi for Peacemindedly Podcast
---
Please Consider to Pledge to Our Independent Peace Journalism.
Thank you. 
Goltune is editorially independent, meaning we set our own agenda. No one edits our editors. No one steers our opinion. This is important as it enables us to stay true to our values.
We practice peace journalism: to cover stories, feature individuals and profile organizations that base their practice according to peace initiatives.
Every contribution we receive from readers like you, big or small, goes directly into funding our journalism. Please support Goltune, large or small. Thank you.
Thanks for helping us to fund our Peace Journalism. Here is our Square account: "Please help us to fund our peace Journalism."
Send your contributions to our PayPal account: [email protected]
Or, contact us and let us know what we can do to deserve your support.
Please follow and like us: