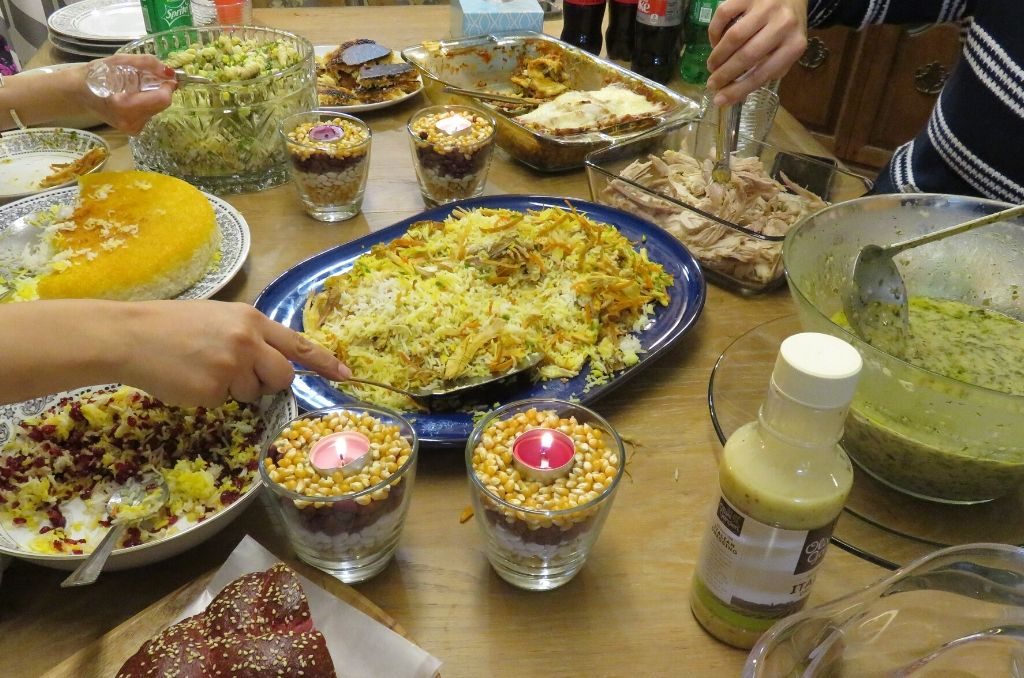 By Azadeh Torabi
Earlier this month, when my friend Sara Jamshidi, the Editor-in-Chief for Goltune  called me up for a special piece on Thanksgiving, I was caught off-guard.
This has been a turbulent year for me and my family. I had to deal with many unpleasant issues this year. I suffered a major health issue, that was followed by a lost in my family. Things never got easier for me this year. I keep looking at my calendar to see when the 2019 will be over. I am hoping to start a better year soon. However, I have to confess that the only thing that kept me going was unconditional, and sometimes surprised, love and support I received from my friends.
I feel extremely blessed to have these amazing people in my life. They have shined their love in my life, and lift me up so many times.  So, this year, instead of Thanksgiving, I celebrated Friendsgiving to show my gratitude and love to my true friends.
What a better way to serve them with the sweetest of all dishes than the sweet orange rice. As you can guess from its name, this rice has a sweet kick to it and is mainly served in merry occasions. Without a doubt, this dish is a non-compromising staple of the wedding dinner table. The orange peels are the key ingredient in this Friendsgiving food that brings aroma, sweetness, color and a surprise explosion of flavors to this dish.
So without further ado, let's get cooking!
Prep time: 1 hr.
Cook time: 1 hrs.
Ready in: 2hr.
Serves: 8
Level: Intermediate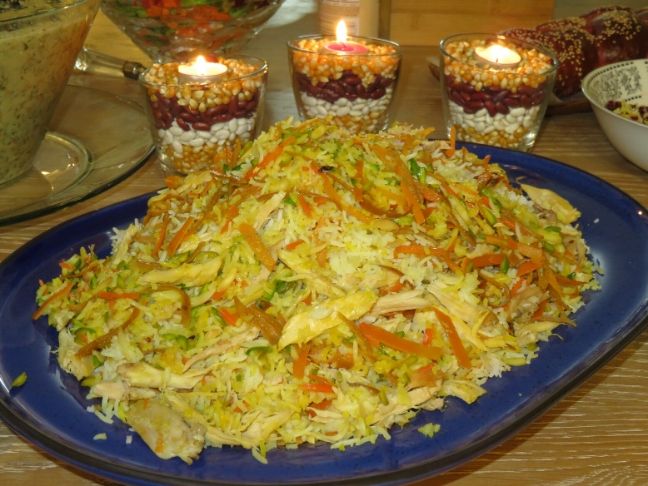 Ingredients
2 cups orange peels, cut into thin slices
1 cup shredded carrots
1/2 cup canola oil, divided
1 cup sugar
1/4 cup brewed saffron
1/2 cup slivered almonds
1/2 cup slivered pistachios
1 tablespoon rosewater (optional)
7 cups Basmati rice
2 lbs. shredded turkey
4 tablespoons butter (optional)
---
Directions:
Wash the Basmati rice under lukewarm water. Drain. Repeat rinse and drain (4-5 times) until the water runs clear. This step is very important to wash away the excess starch. Otherwise, the rice will be too starchy and sticky. Then add water and salt. Choose a non-stick pot that is large enough to fit about 12 cups of water. Throughout the boiling process, the rice grains grow taller and need enough room to float. I used a 10 QT. pot.
Bring water to a boil over high heat until rice grains come to the surface. Gather the foam that is appearing on the surface with a spoon and throw it away. Let the rice simmer for 5 minutes. Remove from the heat and transfer to a coriander. Give it a quick rinse under cold water. Set aside. (for full instruction on rice, see here)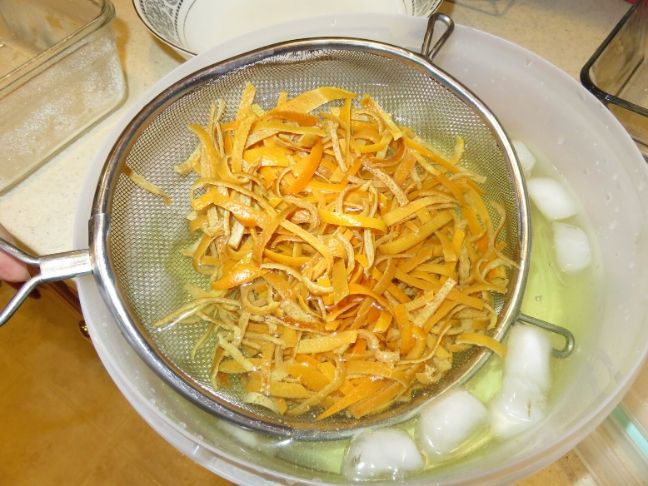 The orange peels are naturally bitter. In order to get rid of the unpleasant bitterness, the white inner layer also known as Albedo needs to be removed carefully without tearing the orange outer layer. It is a painstaking effort, but worth all its work when you see the final result. You can also take a shortcut and order the dried version here.
If using the freshly sliced orange peels, soak them in cold water and let them sit for 15 minutes. The peel disseminates a hue of orange color. Drain the water. Repeat this step 2 more times. If using the dried version, soak them in warm water first for 30 minutes. Drain and repeat soak/drain cycle for 2 more times.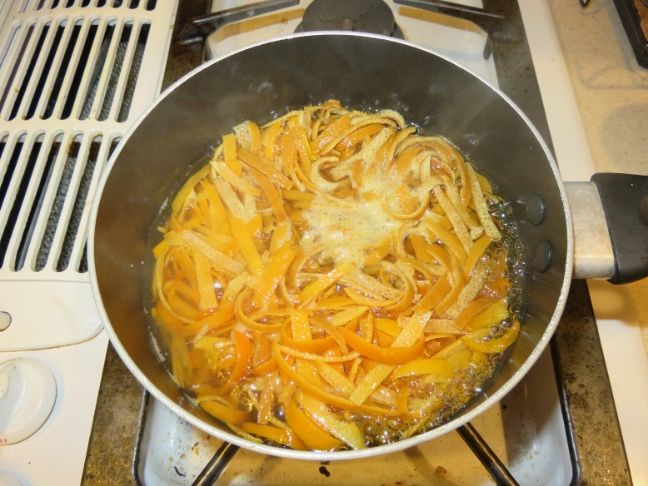 Boil water in a medium pot over high heat. Add orange peels. Turn the heat to medium and let them boil for 10 minutes. Empty the content in a strainer and quickly soak in an ice bath to preserve the vibrant orange color for a couple of minutes. Remove from the bath and set aside to drain.
In a shallow pan, heat oil over medium heat. Add shredded carrots and sauté for 5 minutes. Then add orange slices and sauté for another 3-5 minutes. Add 3/4 cup sugar (feel free to use the whole cup if you prefer a more dominant sweetness) and stir quickly. Add half a cup of water, lower heat, and let it simmer slowly for about 10 minutes or until the carrot and orange peels are al dente. Finally add the brewed saffron. Stir quickly and turn off the heat. Set the mixture aside.
Now it is time to layer up the sweet rice. Add the remaining canola oil to a big pot over medium high heat. First add a layer of rice to the bottom of the pot. Be generous and make the layer about 1/2″ deep. In the next layer, add the orange peel/carrot mixture without the liquid. Top it off with a generous sprinkle of slivered almonds and pistachios. Then layer with shredded turkey.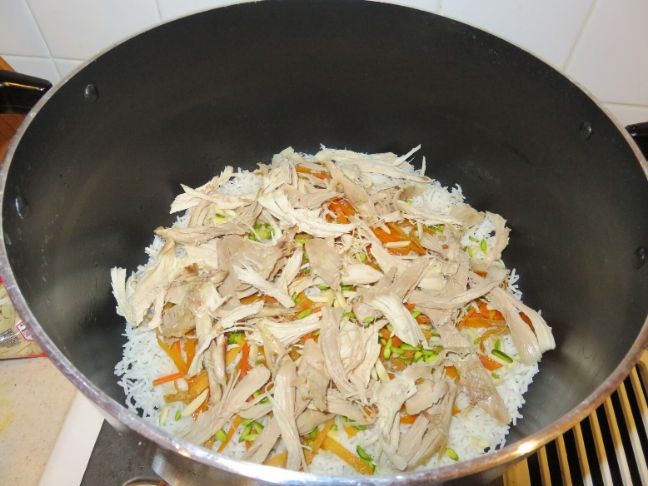 Continue the layers, followed by rice, orange peel/carrot mixture, nuts, and shredded turkey. Preserve a small amount of mixture for garnish at serving.
The nuts give the rice a pleasant crunch. However, it can be prepared nut-free if you are concerned about any allergies.
At the end, pour half the mixture liquid over the rice. Put the lid on and let the rice cook for 15-20 minutes over medium heat. Once the steam starts escaping the pot, wrap the lid in a kitchen cloth and cover the pot again, allow the rice to fully cook over lowered heat for another 20 minutes.
Put cut up butter pieces on top of the rice. Add rosewater to the preserved orange peel/carrot mixture and add to the rice. Fluff the rice to mix completely. Let it sit for 5 minutes and then remove from heat.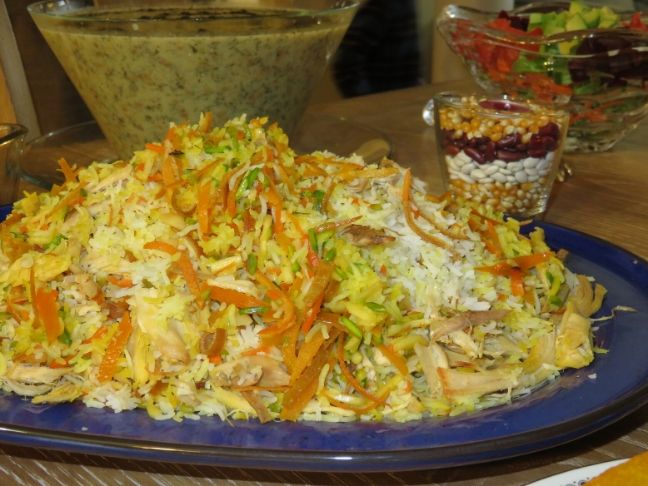 Transfer to a serving platter. Noosh-e jān!