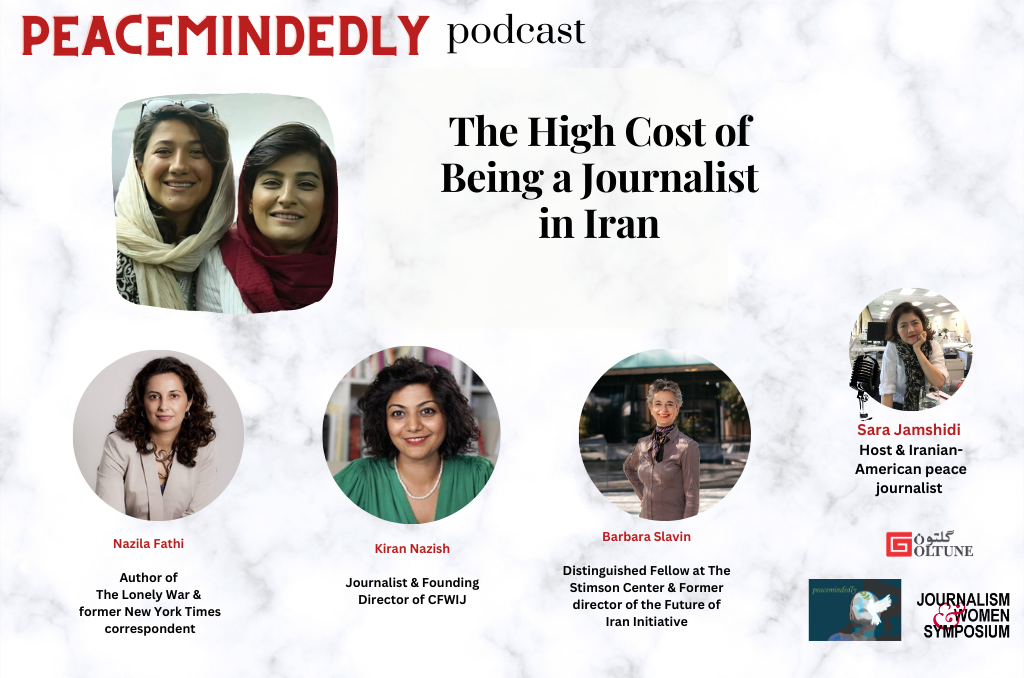 Niloofar Hamedi and Elahe Mohammadi were among the first journalists to cover Mahsa Amini's death, the 22-year-old woman who was detained by Iran's morality police for improper hijab, and then died in the hospital. Niloofar Hammadi broke the story by publishing photographs of Amini lying brain-dead in the hospital. Elahe Mohammadi wrote about Amini's funeral. Hamedi and Mohammedi's reporting and photos subsequently led to their arrest. Six months later, they remain in jail because of their journalism.
Time Magazine named Hamedi and Mohammadi "two of the most Influential People of 2023". They are also awarded by Nieman Foundation's Lyon Award for Conscience and Integrity in Journalism at Harvard University. One must ask: Does the attention the two are receiving worldwide help or hurt them in prison?
In the new episode on Peacemindedly, Nazila Fathi, author of The Lonely War and former New York Times correspondent based in Tehran for 18 years, Kiran Nazish, journalist and founding Director of Coalition for Women in Journalism or CFWIJ, and Barbara Slavin, former Director of the Future of Iran Initiative and a nonresident senior fellow at the Atlantic Council, will discuss the danger of being a journalist in Iran with Sara Jamshidi.
The Raw Footage of the Conversation with Fathi, Nazish and Slavin will be posted later
---
Goltune is editorially independent. We set our agenda. No one edits our editors. No one steers our opinion. This is important as it enables us to stay true to our values.
Every contribution we receive from readers like you, big or small, goes directly into funding our journalism. Please support Goltune, large or small.
Send your contributions to our PayPal account: [email protected]
Or, Click the link to pledge your support.
Thank you,
Goltune Editorial Team