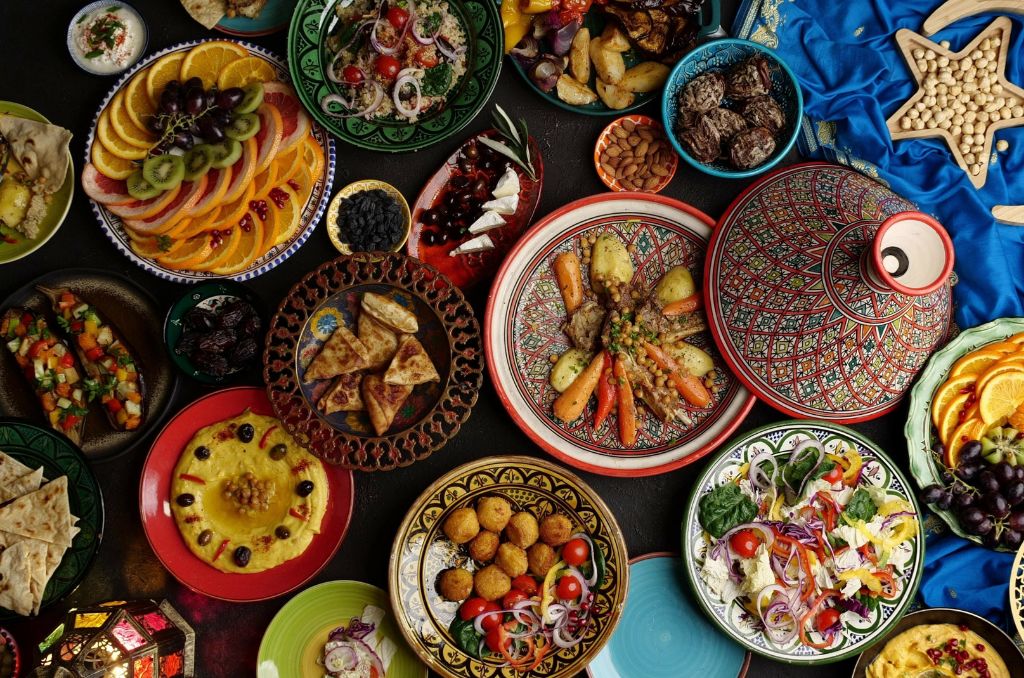 Summary: Azadeh prepares two Iftar table for her guests.
Ramadan is called the month of divine festivities because Muslims believe they are God's guests. More than 1.6 billion Muslims around the world prepare themselves to enter the God's Kingdom by following God's rules. The rules are to refrain from eating, drinking, smoking, having sex, lying, or doing any form of wrong conducts.
In this month, Muslims focus on spiritual aspect of Ramadan such as reciting the Holy Quran, praying more, meditating and contemplating, giving back to charity, being in service, helping people in need, trying to stay way from anything that may darken the soul.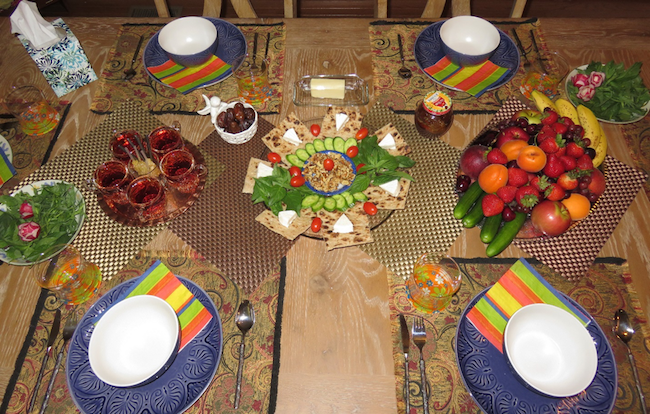 Muslims don't eat and drink from sunrise to sunset. Therefore, there are two major meals that they have to compensate for energy lost: Suhur and Iftar.
 Suhur contains simple food. Muslims usually try to eat light and water-rich food to keep their bodies hydrated throughout the day.
But, Iftar is a different story. Usually, Iftar table becomes a banquet of delicacies, refreshments and hearty meals that allow fasters to make up for the lost energy.
I recently had the opportunity to host two iftar for my dear friends who are observing Ramadan.
Iftar and breaking the fast
Following my family tradition to break the fast, I offered my guests a cup of hot water slightly sweetened with honey. I added rose water drops for smell and taste. The aroma of rose water immediately lifts the mood. The essence itself is known to have hydrating effects which makes it a perfect drink of choice to break the fast especially during the summer heat.
To ease into eating and not overwhelm the digestive system, I offered Saffron Rice Pudding – a fragrant and delectable dessert mostly prepared during Ramadan – to go with a hot glass of tea.
Soups are great for reintroducing food to body after long hours of starvation. The guests enjoyed a hot cup of rolled oats soup as a starter. For the main dish, chicken celery stew was served along with white rice.
Iftar, Persian style
On the other occasion, I opted for a more elaborate table with more food choices to choose from. In addition to dates stuffed with walnut, the appetizer platter was filled with white cheese, walnuts, fresh basil and mint, sliced cucumber, tomatoes and an especially stone baked flat bread, sangak.
The bite-sized stuffed grape leaves worked charmingly as a light starter. Also on the table, the yogurt soup garnished with caramelized onions and dried mint satisfied the taste buds of hungry fasters.
Last but not least, the main course consisted of split pea and eggplant stew served with white rice. The dishes on the menu represent a well-balanced diet that includes animal protein as well as plant-based proteins, grains, vegetables, herbs and fruits.
While practicing self-discipline by way of fasting and refraining from bad deeds, sitting at the iftar table is rewarding. After enduring long hours of fasting, there is really no rush to gulp down everything on the table. Nor is it healthy.
The iftar can take anywhere from 30 minutes to two hours. The idea is to compensate for breakfast, lunch and dinner in well-spread increments to maintain the body health. Fasting is an opportunity to put your body to test and nourish your spiritual soul at the same time. Ramadan Kareem!
---
We have a small favor to ask. We have many visitors reading and supporting our independent, editorial reporting. And unlike many news organizations, we do not receive any direct or indirect support from any organizations.
Every contribution we receive from readers like you, big or small, goes directly into funding our journalism. Please support Goltune, large or small. Thank you.
Send your contributions to our PayPal account: [email protected]

Or, contact us and let us know what we can do to deserve your support.