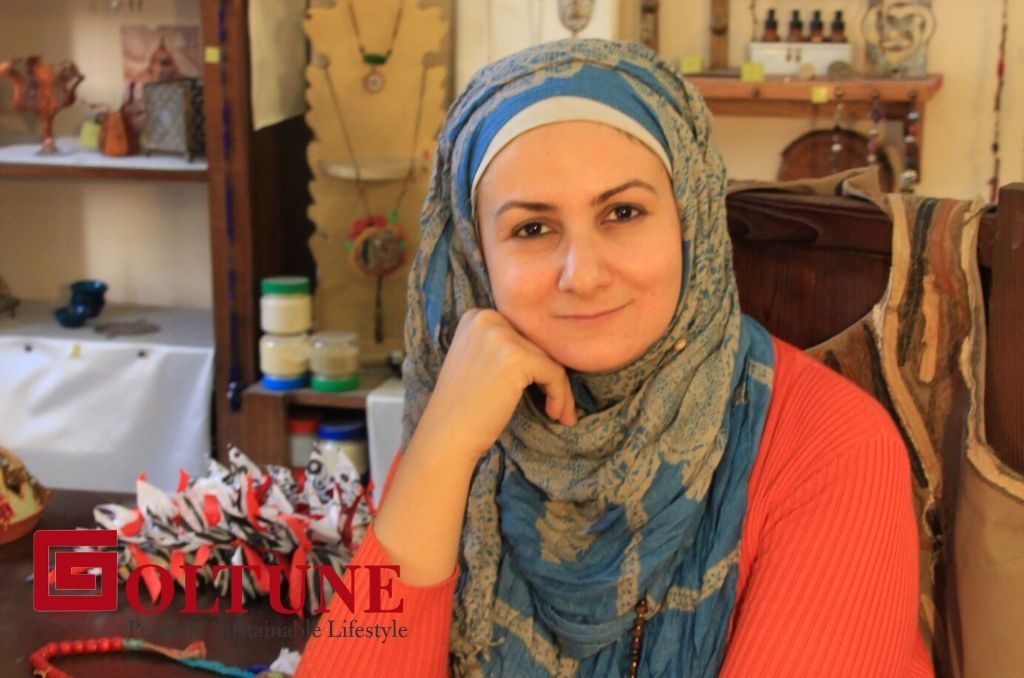 Ola Mubaslat felt inspired by the skyline of downtown Amman, Jordan, and recycled art. So she decided to extend the view into her renovated shop, Ola's Garden, by painting an orange silhouette with a yellow horizon along each wall.
As an entrepreneurial artist, this is the sort of creative liberty that Ola, 44, is fond of exercising. Her organic designs of recycled art certainly set her apart from her more conventional neighbors on Khirfan Street, one of the oldest streets in Amman. But she is free to express herself here because her work doesn't fly in the face of tradition.
Ola pays homage to local history and culture by repurposing old materials into new pieces of art and fashion.
She refused to create advertisements for alcohol, night clubs, and other products that can cause harm.
She is currently using her recycled art mastery to craft a new collection of jewelry and wall art from pieces of old Roman olive wood. Harnessing a unique sense of thrift, place and harmony, her work attracts the attention of customers who are looking for original gifts that harbor local sentiment.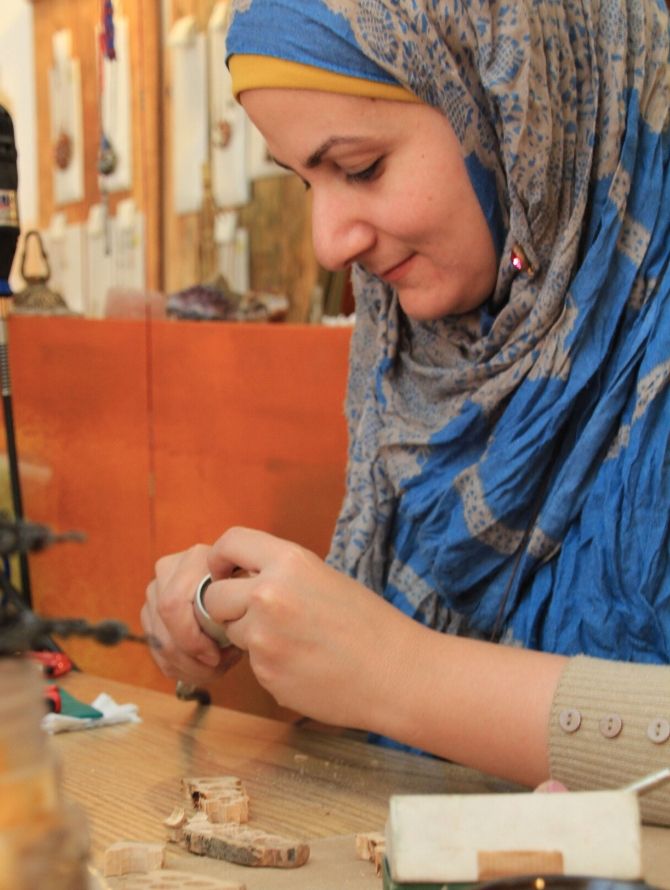 Ola was born in Jordan and raised in Saudi Arabia. But she realized that Saudi Arabia wasn't yet particularly receptive to artists. She chose to come back to Jordan to study Applied Art at Yarmouk University. She was fortunate that her family granted her such a level of independence. However, she had to lay her father's career-oriented expectations to rest.
"Art can't be a career," she explained. "When you consider it a career, it's no longer art."
She learned this lesson the hard way. After graduating she went corporate, working as a graphic designer for 13 years. But she couldn't relate to those who were purely motivated by money. She refused to create advertisements for alcohol, night clubs, and other products that can cause harm to a community and run counter to her Muslim morals. This tension took a serious toll on her.
"There was too much of me going to waste," she said. "Some of those companies affected my personality and my emotions. My family could see that."
Financially and emotionally broke, she still harbored a dream to start her own business. Her cousin, who owned a lamp shop in Amman, saw her potential and challenged her to open a boutique.
She spreads each collection throughout her shop, so customers can discover something new everywhere they look.
She rented a room in the same building, as of her cousin's shop, dragging tree branches in to use as decoration and cardboard boxes to use as display tables. Her neighbors later teased her for her crazy antics, but for the first time in years, she was content.
Ola quickly established good rapport with her neighbors. From across the street, Ivon Kabboosh, 50, had watched the shop change hands between male owners for 40 years until Ola settled in.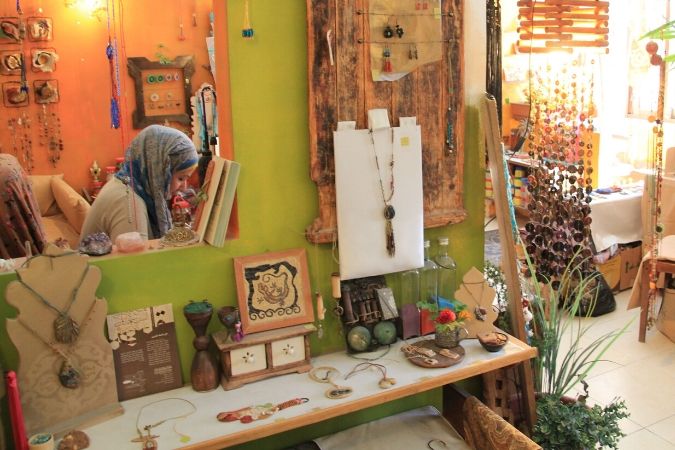 "It's a good thing that women are opening their own projects," she said..
Financially, Ola simply realized that she didn't need a lot of money to create jewelry, art, and apparel. Her mother had instilled the value of recycled art in her from a young age. In fact, she prefers working with older materials because she finds inspiration in their former lives. She finds joy in tasks such as turning antique farm tools into carved wall hangings and rustic buttons into earrings.
"Usually my designs concern earth, nature, and movement," she said. She lists olive wood, metal, fabric, leather, ropes and buttons as some of her go-to tools. She'll take one natural concept, like a baby inside a womb, and find a way to express it through paintings, necklaces and embroidery.
She thoughtfully spreads each collection throughout her shop, so customers can discover something new everywhere they look. Soft jazz music welcomes them as they enter and Ola's ability to chat in both English and Arabic inspires them to open up and engage in meaningful conversations while they browse.
"People ask me about issues that they don't usually ask about in shops," said Ola.
She engages in conversations about Jordan, Islam, and other parts of her identity that outsiders are curious to learn more about in a safe space.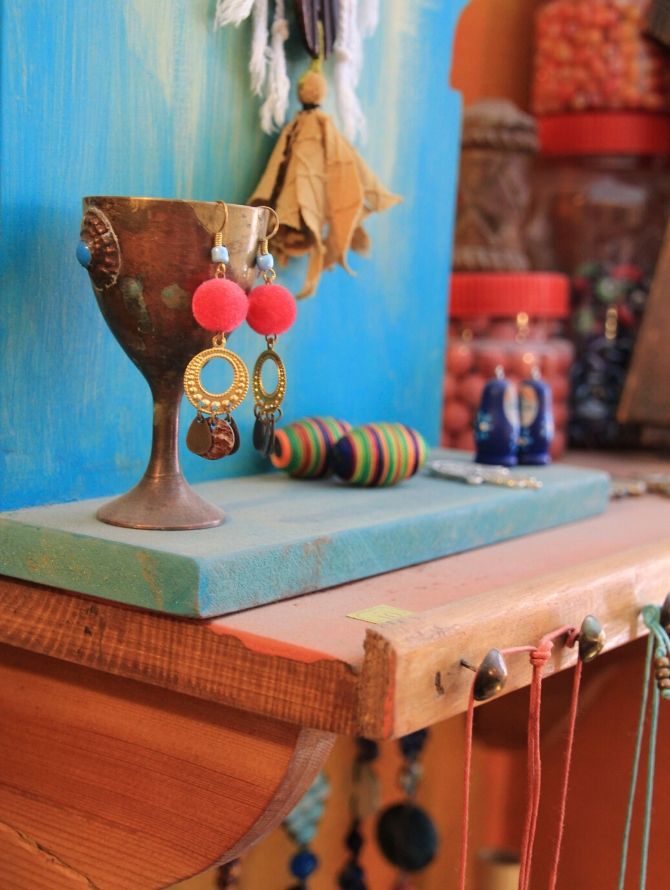 While she estimates that 70% of her clients are foreigners, she feels that there is a growing appreciation for her style in Jordan.
Nadia Bseiso, a Russian-Jordanian documentary photographer, first encountered Ola's shop when it was just a start-up in another building and has been coming back ever since. She knows this is the place to find carefully crafted recycled art of Middle Eastern gifts with a modern touch.
"I can see she's very passionate about her work," said Nadia. "It's handmade. Every piece is original."
Muna Fadhil, a Jordanian working abroad in Iraq for UNESCO, made sure to schedule enough time during her recent trip home to spend some quality time inside Ola's shop. She describes the shop as a combination of "jazz and hijab."
"She has this effect on people," Muna explained, noting she'll usually spend an entire afternoon sipping tea and hanging out with Ola to recharge.
Ola's business survives on word-of-mouth referrals. She envisions adding a coffee shop someday, but is reluctant to scale up much further because she wants to retain a sense of intimacy.
"I found a sanctuary," she said. "I won't let it go."
---
We have a small favor to ask. We have many visitors reading and supporting our independent, editorial reporting. And unlike many news organizations, we do not receive any direct or indirect support from any organizations.
Goltune is editorially independent, meaning we set our own agenda. Our agenda is to show that women from everywhere, including Muslim-majority nations, have the same aspirations, agency and tenacity as everyone else. No one edits our editor. No one steers our opinion. This is important as it enables us to stay true to our values.
Every contribution we receive from readers like you, big or small, goes directly into funding our journalism. Please support Goltune, large or small. Thank you.
Send your contributions to our PayPal account: [email protected]
Or please send your check to
Goltune News LLC
1203 114th Ave. S.E.
Bellevue, WA 98004