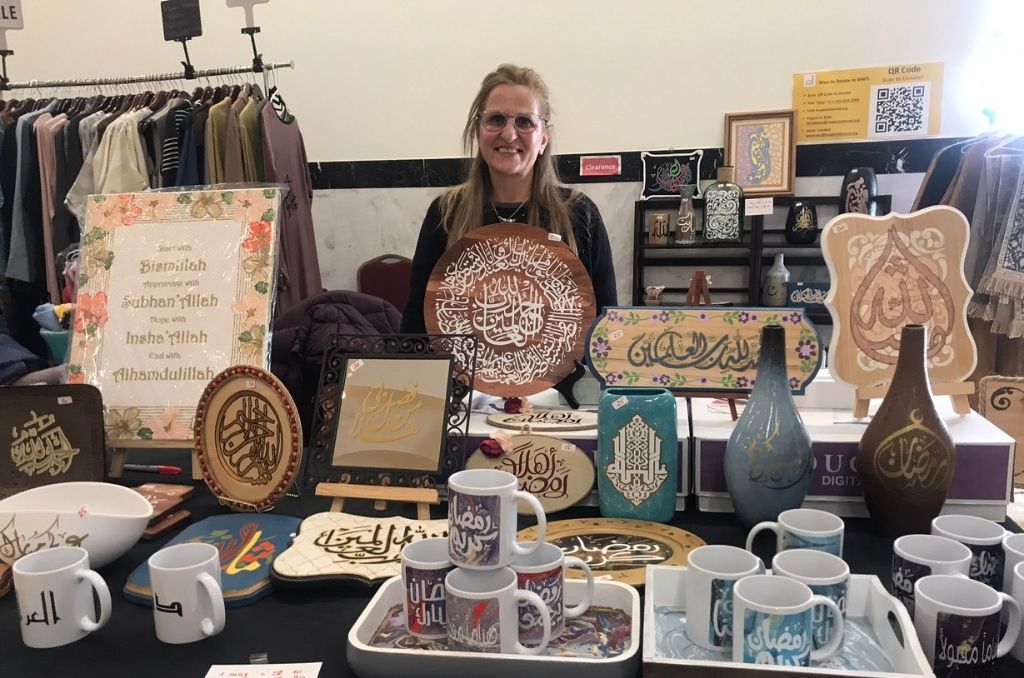 Seattle – March 7, 2022
The Muslim Association of Puget Sound, MAPS, launched its first Small Business Resiliency Network (MAPS-SBRN) to help small businesses and nonprofit organizations with training, technical support, and other services as the Washington State is getting ready to ease regulations after the pandemic regulations.
The Washington State Department of Commerce selected MAPS as one of its community partners to help small business owners affected by COVID. The networking event included culturally diverse businesses that provided ethnically unique goods and services to Muslim and non-Muslim communities in the Puget Sound.
"The Covid-19 pandemic has had a devastating effect on families, communities and small businesses," said Gul Saddiqi, project manager of Small Business Resiliency Network in an email. "Dwindling numbers of customers weighed heavily on these small businesses who rely on this income to keep the doors open, and to support their employees."
More than 60 small businesses and nonprofit organizations gathered in a large ballroom at MAPS to showcase their products and services.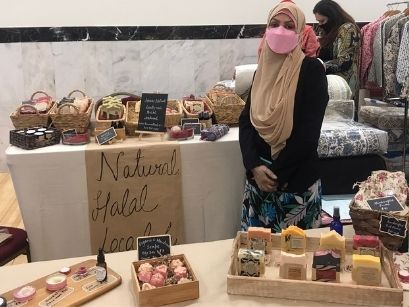 "I got interested in making organic, high-quality soap with halal ingredients because of my daughter," said Sana Alam, creator of Hana's Naturals. "My daughter was only two or three months when she started having skin problem. None of the traditional over the counter soaps or products were working for her. I started exploring and making soaps and creams for her. Alhamdullilah, I was able to expand my business. I am still operating from my garage. But the pandemic was hard on my business. I am very happy for the opportunity to be out and about, talking to my customers and seeing people."
The grant provided by the Washington Department of Commerce will assist MAPS in supporting Muslim, Middle Eastern, Arab, South Asian, Immigrant, Refugee, and People of Color business owners.
"I love art and I love Arabic calligraphy," said Zahira Alkhalili, owner of Zahira Studio. "My first booth was at the Olympia Exhibition about three years ago. But the pandemic started and I had to wait until the time was ready. I am so grateful for this opportunity."
The smell of kebab and sweet baklava was in the open air as one made their way into the fair's spacious interior. Tables and booths were organized so attendees could navigate the space easily while also being mindful of social distancing. Most of the attendees and exhibitors were wearing masks.
"I organize hijab parties, graduation ceremonies or anything that my clients desire," said Zahraa Alsibai, owner of Emesa Design that makes hand-made home decoration and crafts. "As you can see, I follow floral design, something that reminds me of Holms, my hometown in Syria. The name of my business is the ancient name of Holms," she said.
Dr. Sadaf Ijaz, a dietitian specializing in prediabetic, weight management, and patients with inulin resistance, stood by her desk in her white physician's outfit to explain her program.
"I tell my clients that they do not need to give up their delicious ethnic food," she said. "I help them to make better choice while they never have to give up their favorite food."
What is MAPS-SBRN?
MAPS-SBRN (Small Business Resiliency Network) is a program for small business owners and nonprofits to:
Learn from and mentor each other;
Sign on to a listserv to receive regular updates on local, state and federal resources and Funding opportunities;
Obtain assistance in completing forms to apply for resources (like the Payroll Protection Program), whether the business is open or closed;
Benefit from virtual seminars and other training programs on relevant business topics;
Access services to support a successful business in a digital age, including help with website design/improvement, social media, marketing, accounting/record-keeping, and more; and
Have their business listed on MAPS website for free.The services that MAPS-SBRN offer
Assistance with the following  are available for free or at a reduced rate:
PPP Loan Application/Forgiveness
Website Development or Improvement
Social Media and Marketing/Advertising
Delivery Services Signup
Accounting and Bookkeeping
Printing Services
Business Legal Help
Translation Assistance
Connection to Financial Resources
Listing/Promotion on our MAPS website
For more information, please visit MAPS-SBNR.
Short video of MAPS – SBRN fair
---
Please Pledge to Our Independent Peace Journalism.
Goltune is editorially independent, meaning we set our own agenda. No one edits our editors. No one steers our opinion. This is important as it enables us to stay true to our values.
We practice peace journalism: to cover stories, feature individuals and profile organizations that base their practice according to peace initiatives.
Every contribution we receive from readers like you, big or small, goes directly into funding our journalism. Please support Goltune, large or small. Thank you.
Thanks for helping us to fund our Peace Journalism. Here is our Square account: "Please help us to fund our peace Journalism."
Send your contributions to our PayPal account: [email protected]
Or, contact us and let us know what we can do to deserve your support.