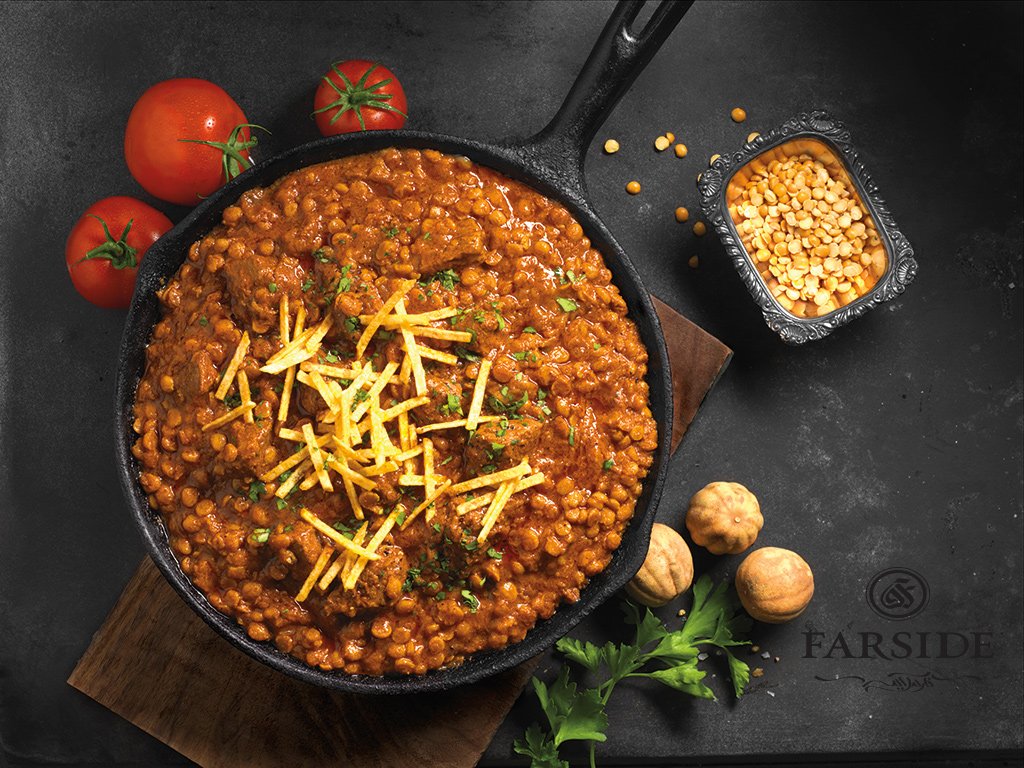 Today is Eid al-Adha. Many Muslim families prepare their traditional dishes in observance of today's celebration. Azadeh prepared Gheyme for you.
The centuries old tradition, as stated in most holy books, began with Ibrahim committing himself to God's command by offering his son as sacrifice. However, he was spared from the test and a ram was sent to be sacrificed instead. Muslims all over the world remember the occasion by making dishes containing lamb or beef which symbolize the ram that was sent to Ibrahim.
Gheymeh, or split peas stew, from Iran is one of the most popular dishes for this day. The delectable dish is considerably high in protein and fiber due to use of yellow split peas and meat.
Ingredients: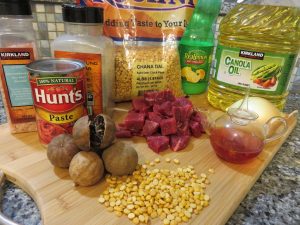 2 pounds Lamb meat, bite size or cut for stew
1 medium yellow onion, finely chopped
2 cups yellow split peas (Chana Dal in ethnic stores), sorted for debris, soaked and rinsed
5 tablespoons tomato paste (6 oz. can)
6 tablespoon of canola oil, divided
½ teaspoon turmeric powder
¼ teaspoon cinnamon powder (optional)
5 dried limes (optional)
2 tablespoons brewed saffron (optional)
3-4 tablespoon lemon juice
Salt and pepper to taste
Directions: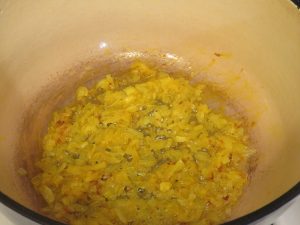 1.       Heat 3 tablespoons of canola oil in a pot over medium high heat. Sauté chopped onions for about 4 minutes, until they turn translucent and golden in color. Add the turmeric powder and stir for another minute.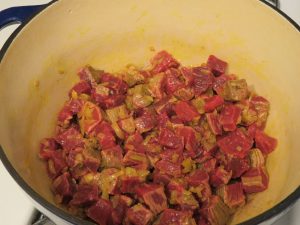 2.  Add the lamb meat and stir. Turn the heat to medium low and cover the pot allowing the meat to cook in its juice for 30 minutes.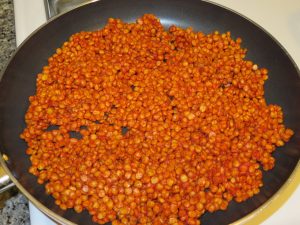 3.  Meanwhile, rinse the soaked split peas. Heat the rest of the canola oil in a frying pan and add the split peas to fry slightly. Stir occasionally. Frying the split peas has two benefits: firstly, it removes the raw smell of the split peas. Secondly, the peas tend to cook too quickly and hence losing their shape when cooked for long time in stews. So, when they get fried, they still preserve their shape and a bit of crunch after being cooked.
The peas are done after they have changed color from dull light yellow to a deeper yellow. Add the tomato paste and give it a quick stir. Add the cinnamon powder, if using any. Although its use is optional, I strongly recommend it since it will add more intensified aroma to your dish.
Remove the pan from the heat.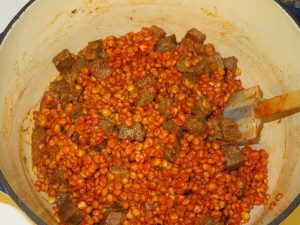 4. Add the fried split peas to the undercooked meat and combine well.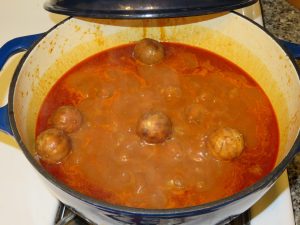 5. Add about 4-5 cups of boiling water to the pot. Bring the mixture to a boil. Then reduce the heat to medium low and cover the pot. The dried limes add a distinctive taste and aroma to the stew. Before adding them to the stew, poke them few times with a fork to make tiny holes in them. Their taste is infused in the stew as they cook along other ingredients. Although they are fully edible – especially for those who enjoy an elevated sour taste – it is best not to eat the dried lime since they absorb the stew's grease significantly. Allow the stew to simmer for 30 minutes, covered.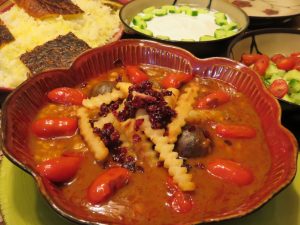 6. Add the lemon juice, and salt and pepper to taste. The stew roughly takes about an hour and half to cook, depending on the variety of split peas used. The key is to cook split peas a la dente. Overcooking will make the split peas to lose their shape and become more of a soup texture than stew. Turn off the heat. Add the brewed saffron and let it sit for 5 minutes.
The stew is usually garnished with some fried potato strings on top. The split peas stew is best served hot on a bed of saffron rice. Noosh-e jān!