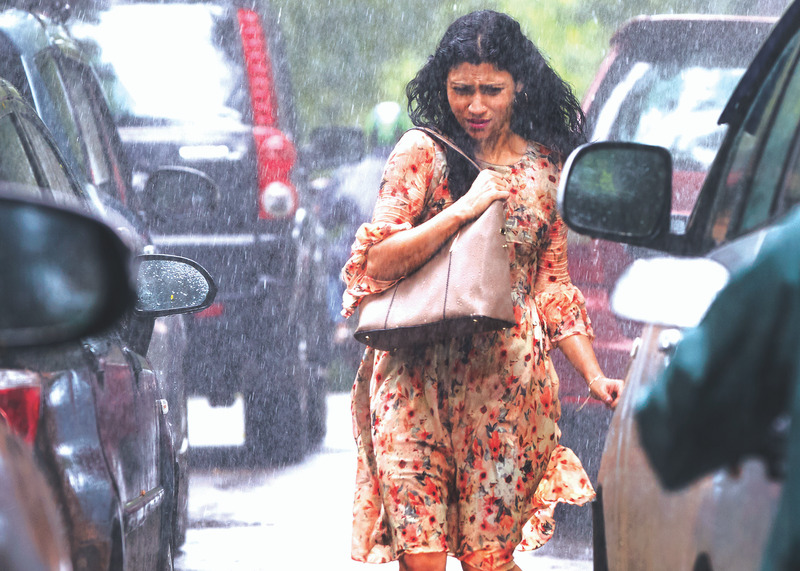 Tasveer South Asian Film Festival, TSAFF, the largest South Asian film festival in the United States, will feature more than 27 female filmmakers this year.
After the "Me Too" movement, that inspired many groups and organizations to take stand in favor of women, TSAFF plans to pay special tribute to female empowerment, immigration, climate change under its larger theme of social justice.
Films will screen from September 26 – October 6, 2019, at various venues in the Puget Sound area. Tickets for special events, films, gala parties and more are now available at https://tsaff.tasveer.org/2019/.
"Each year we see hundreds of films through our submission process and it was exciting to see a surge in films created by women, and important stories representing the LGBTQ+ communities across the South Asian countries," said Rita Meher, TSAFF Executive Director.
The 2019 TSAFF will present 22 feature films and 39 short films during its 11-day run this fall. Programming represents with over 25 filmmakers in attendance.
On September 26, TSAFF opens with the Seattle premiere of Danish Renzu's The Illegal (Director of the award-winning short In Search of America, Inshallah, and feature film Half Widow) starring actor Suraj Sharma (Life of Pi). Both director and actor are scheduled to attend a post-film Q&A. Prior to the screening, TSAFF welcomes and celebrates legendary actress and activist Shabana Azmi, by presenting her with the prestigious Tasveer Emerald Award for her contributions to world cinema. The festivities will kick off at 6:30 p.m. at SIFF Cinema Egyptian.
The TSAFF's Centerpiece is The Sweet Requiem directed by Ritu Sarin and Tenzing Sonam and premiered to critical acclaim at the Toronto International Film Festival last year. Both directors are scheduled to attend the screening on Friday, October 4, 2019 at 7:00 p.m. at Physics Auditorium on the University of Washington campus.
And lastly, closing the 2019 festival on Sunday, October 6th is the Pakistani crime/thriller Laal Kabootar, directed by Kamal Khan that offers Seattle audience a refreshing take of cinema from this region. The screening and gala is to be held at the Seattle Art Museum at 2:00 p.m. Following the closing night film, stay for the TSAFF 2019 Awards ceremony and party to celebrate South Asian films presented in Seattle.
Other film highlights include a short film by groundbreaking transgender Bollywood writer, Gazal Dhaliwal (scheduled to attend) A Monsoon Date, and the screening of The Price of Free, a documentary featuring Nobel Peace Prize winner Kailash Satyarthi (scheduled to attend).
The following filmmakers are scheduled to attend the 2019 festival. Please contact the festival Press Office, [email protected] to schedule an interview.
The Illegal
September 26
Danish Renzu (Director), Suraj Sharma (Actor)
Kaifinama
September 27
Sumantra Ghosal (Director), Shabana Azmi (Actor)
Aunty Sudha Aunty Radha
September 28
Tanuja Chandra (Director)
A Monsoon Date
September 28
Gazal Dhaliwal (Screenwriter), Tanuja Chandra (Director)
The Price of Free
September 28
Kailash Satyarthi (Nobel Laureate)
Gaash
September 28
Danish Renzu (Director)
Passage
September 28
Asavari Kumar (Director)
Pariah Dog
September 29
Jesse Alk (Director)
Reason
October 3
Anand Patwardhan (Director)
The Sweet Requiem
October 4
Ritu Sarin (Director), Tenzing Sonam (Director)
Because We Are Girls
October 5
Baljit Sangra (Director)
Laal Kabootar
October 6
Kamil Chima (Producer) *Pending

Vellai Pookal (local film)
Sept 29
Vivek Elangovan (Director), Jerald Peters (Cinematographer)
Lucy and Tenzin (local film)
Sept 29
Khenrab Palden (Director)
The Concurrence (local film)
Sept 29
Esha More (Director)
The TSAFF educational programming for the 2019 festival includes the following opportunities. All are free and open to the public, however, pre-registration is required.
Workshops for aspiring local filmmakers with mentorship from visiting established industry professionals, presented by Tasveer in collaboration with Northwest Film Forum and visiting filmmakers from Bollywood, Hollywood and The Film School (Seattle).

Screenwriting Deconstructed
Monday, September 30, 2019
5:00 p.m.
Northwest Film Forum, 1515 12th Ave, Seattle, WA 98122
Deep Dive Into Making Short Films
Tuesday, October 1, 2019
5:00 p.m.
Northwest Film Forum, 1515 12th Ave, Seattle, WA 98122
A forum focused on the global impact of major online streaming platforms on freedom of expression that has allowed many South Asian storytellers to bypass strict domestic censorship rules. Co-sponsored by South Asia Center, UW Seattle and Tasveer.

Symposium: South Asian Films and the Rise of Nationalism
Friday, October 4, 2019
3:30 p.m.
Simpson Center, CMU, UW Seattle, 1410 NE Campus Pkwy, Seattle 98195
Full 2019 TSAFF Film Lineup
Please find high resolution images, trailers and assets here: http://bit.ly/Tasveer2019PressRoom
Feature Films
Jhalki (2019), India, Brahmanand S Siingh
Baggage 2019, India, Roopa Rao
Dunkey Following European Dreams 2019, Pakistan, Syed Muhammad Hassan Zaidi (docu)
Gadhvi 2019, India, Gaurav Bakshi
Kattumaran (Catamaran) 2019, India, Swarnavel Eswaran
KD, 2019 , India, Madhumita Sundararaman
Laal Kabootar 2019, Pakistan, Kamal Khan
Namdev Bhau in Search of Silence 2019, India, Dar Gai
Soundless Dance 2019, France, Pradeepan Raveendran
The Illegal 2019, United States, Danish Renzu
The Last Color 2019, India, Vikas Khanna
The Price is Free 2018, United States, Derek Doneen
The Sweet Requiem 2019, Tibet, Ritu Sarin and Tenzing Sonam
Turtle 2018, India, Dinesh S. Yadav
Vellai Pookal 2019, India/United States, Vivek Elangovan
Documentary Films
Aunty Audha Aunty Radha, 2019, Tanuja Chandra
Because We Are Girls 2019, Canada, Baljit Sangra
Pariah Dog 2019, United States, Jesse Alk
Coral Woman 2019, India, Priya Thuvassery
Kaifinama 2019, India, Sumantra Ghosal
Reason 2018, India, Anand Patwardhan
What We Left Unfinished 2019, United States, Mariam Ghani
Short Films
A for Apple 2019, Canada, Sarah Aminuddin
A Monsoon Date 2019, India, Tanuja Chandra
A Sari for Pallavi 2019, United States, Kate Chamuris
Aguan-Sun Behind the Horizon 2019, Bangladesh, Novera Hasan Nikkon, (documentary)
All the Perishes at the Edge of Land 2019, Pakistan, Hira Nabi, (documentary)
Babu 2019, Nepal, Eelum Dixit
Before I Go 2019, United States, Dennis Tran
Brunch Wars 2019, United States, Kamran Khan
Closet Supes 2019, United States, Kesav Wable
Cul-De-Sac 2019, United States, Cara Lawson
Daughters of The Polo God 2019, India, Roopa Barua, (documentary)
Elephantbird 2019, Afghanistan, Masoud Soheili
Gaash: Light 2019, India, Danish Renzu
Forbidden 2019, United States, Vibha Gulati
Hargun 2019, Canada, Gurleen Kaur
If I Have to Go 2019, India, Gaurav Boruah and Prajnyan Ballav Goswami
Kamali 2019, United Kingdom, Sasha Rainbow (Documentary)
Kayantar (Metamorphosis) 2019, India, Rajdeep Paul, Sarmistha Maiti
Living with Snow Leopards: Tashi's Story 2018, United States, Gayle Podrabsky (documentary)
Look at the Sky 2019, India, Ashok Veilou
Lucy and Tenzin 2019, United States, Khenrab Palden
Maya 2019, India, Vikas Chandra
Meal 2019, India, Abhiroop Basu
Mud Mud Ke Na Dekh (Do not Look Back) 2019, India, Mujeer Pasha and Veena Kulkarni
Nooreh 2019, India, Ashish Pandey
Passage 2019, United States, Asavari Kumar
Settled 2019, Pakistan, Marya Javed
Shadow 2019, Pakistan, Fawzia Mirza and Anam Abbas
Shit One Carries 2019, India, Shuchi Kothari
Soch 2019, Canada, Varundeep Singh Chawla
Tattini – The Moon is Bright Tonight 2019, Nepal, Abinash Bikram Shah
The Booth 2018, India, Rohin Raveendran
The Concurrence 2019, United States, Esha More
The Death of an Audience 2019, India, Ajit Giri
The Seal 2019, United States, Richa Rudola
The Stitch 2019, India, Asiya Zahor
Tina 2019, United States, Gayatri Bahl
U For Usha 2019, India, Rohan Parashuram Kanawade
Unkept 2019, Canada, Michael P. Vidler
ABOUT TASVEER
Tasveer's mission is to inspire social change through film, arts and storytelling. The festival exemplifies this through curated programming focused on addressing social justice issues such as islamophobia in India, queer and transgender issues, children's rights by way of Nobel Peace Price winner Kailash Satyarthi, as well as building a community together through lots of Bollywood parties with chai and samosa! https://tsaff.tasveer.org