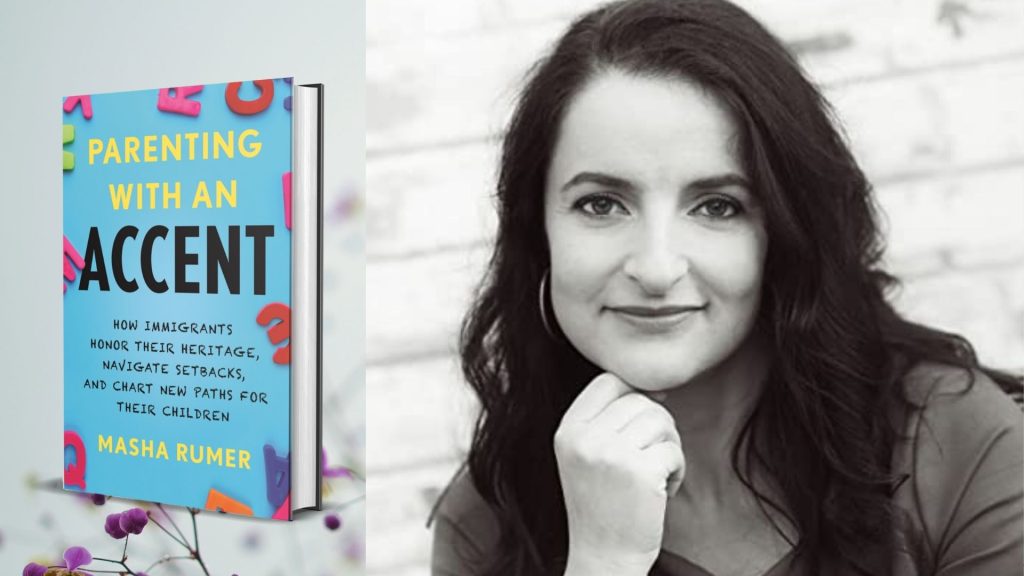 About our guest:
Masha Rumer
is an award-winning journalist and freelance writer. Her work has appeared in the
New York Times
,
the

Washington Post
,
Quartz
, the
Moscow Times
,
Parents.com
, and elsewhere. An immigrant from the former Soviet Union, she now lives with her family in California, where she is navigating the nuances of multicultural and interfaith parenting. You can find her online at
masharumer.com
and on Twitter @MashaDC.
Parenting with an Accent:

How Immigrants Honor Their Heritage, Navigate Setbacks, and Chart New Paths for Their Children

Masha Rumer
About the Book:
Beacon Press –
Merging real stories with research and on-the-ground reporting, an award-winning journalist and immigrant explores multicultural parenting and identity in the US
Through her own stories and interviews with other immigrant moms and families, Masha Rumer paints a realistic and compassionate picture of what it's like for immigrant parents raising a child in America while honoring their cultural identities. Parenting with an Accent incorporates a diverse collection of voices and experiences, giving readers an intimate look at the lives of many different immigrant families across the country. Using empirical data, humor, and on-the-ground reportage, Rumer offers interviews with experts on various aspects of parenting as an immigrant, including the challenges of acculturation, bilingualism strategies, and childcare. She visits a children's Amharic class at an Ethiopian church in New York, a California vegetable farm, a Persian immersion school, and more.
Deeply researched yet personal, Parenting with an Accent centers immigrants and their experiences in a new country—emphasizing how immigrants and their children remain an integral part of America's story.
---
Raw Footage of the Interview with Masha Rumer
---
Goltune is editorially independent, meaning we set our own agenda. No one edits our editors. No one steers our opinion. This is important as it enables us to stay true to our values.
We practice peace journalism: to cover stories, feature individuals and profile organizations that base their practice according to peace initiatives.
Every contribution we receive from readers like you, big or small, goes directly into funding our journalism. Please support Goltune, large or small. Thank you.
Thanks for helping us to fund our Peace Journalism. Here is our Square account: "Please help us to fund our peace Journalism."
Send your contributions to our PayPal account: [email protected]
Or, contact us and let us know what we can do to deserve your support.