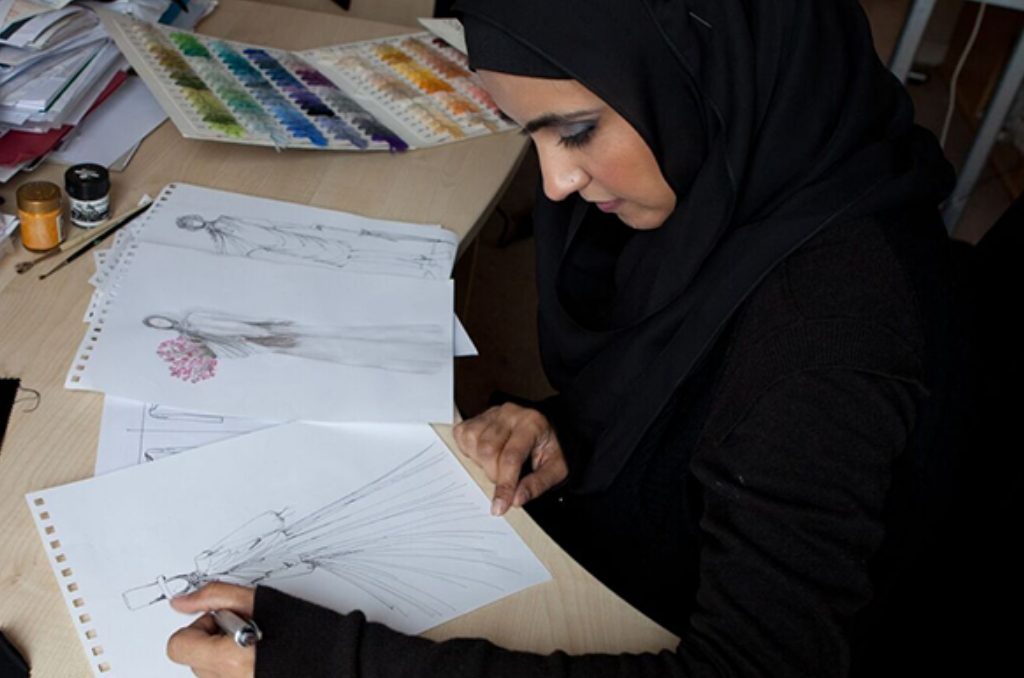 Press Release – Barjis London won Fashion Brand of the Year award organized by the Islam Channel, a Muslim broadcast network in the United Kingdom.
The panel of judges, including the industry's leading experts, and highly accredited personalities, selected Barjis as the fashion brand of 2019 out of hundreds of participants.
"Truly humbled to be the recipient of the Fashion Brand of the Year. With this award comes great responsibility to continue to serve our clients and deliver work of the highest standard in the most ethical way." Said Barjis Chohan, CEO and Founder of Barjis London
Barjis Chohan, raised in Tooting in South London with Pakistani and Rajasthani heritage. Her taste of color and design has benefited from her diverse cultural background. The hand-drawn prints transformed into clothes, scarves and interior lifestyle products depict a poise of British conservatism and Pakistani sensibility.
Barjis line of interior lifestyle products such as rugs, carpets and cushion is produced for luxury homes and hotels including the Berkeley Group in the UK and the Emirates Towers in Dubai.
Barjis Chohan also facilitates individuals and businesses with her professional services ranging from dressing women for special occasions to decorating venues with her plush rugs and gorgeous wall hangings.
In the email exchange we had with Chohan, she explained her strategy and brand philosophy further in a way that resonated with us. Below, please read Chohan's response to our inquiries.
"The award was first of the kind from Islam Channel. It was to celebrate the success of Muslim businesses. The Fashion Brand of the Year had around 7 shortlisted designer brands. We had to present to a panel of judges at the Islam Channel headquarters and the winners were announced at a gala event in March.
"I thought I had no chance, as I have kept the brand very small and did not follow the steps of influencer endorsements to push the brand forward, I also didn't feel the need to do shows for the sake of doing shows.
"I am aiming high for Barjis but want it to grow with integrity and not feel pressured to follow the crowd. Barjis has a loyal global following and we are not interested in numbers and we cross over into the mainstream and the modest market beautifully. A lot of our customers are reverts and mainly women who are well travelled and well educated.
"It has taken us nearly 10 years to establish the brand and for a lot of people they think the prices are too high but we are not competing like the rest on prices. For us the 3 most important factors for our success are:
"Integrity – being transparent with our customers, not selling our soul for coverage.
"Quality – we produce work of the highest quality and choose our suppliers and materials thoroughly to ensure that we are not harming people in the process of making our products. So manufacturing from China and Bangladesh are out of the question.
"High-class service: It is important to have a personal relationship with our customers and give them a top service. I introduce myself to every new customer and make sure I communicate with them through their order. A lot of our work is made to order, hence this requires regular communication with the client.
"Barjis is the first high-end brand in the modest market and we are not here to make quick money and exit. We want to keep this legacy going, so the numbers game is not important to us. Some people call us "unique" in the modest fashion industry as we do things our own way, not afraid of saying no, and only launch products when we want to and not following any seasons or fashion weeks.  Our strategy is to "let the work speak for itself".