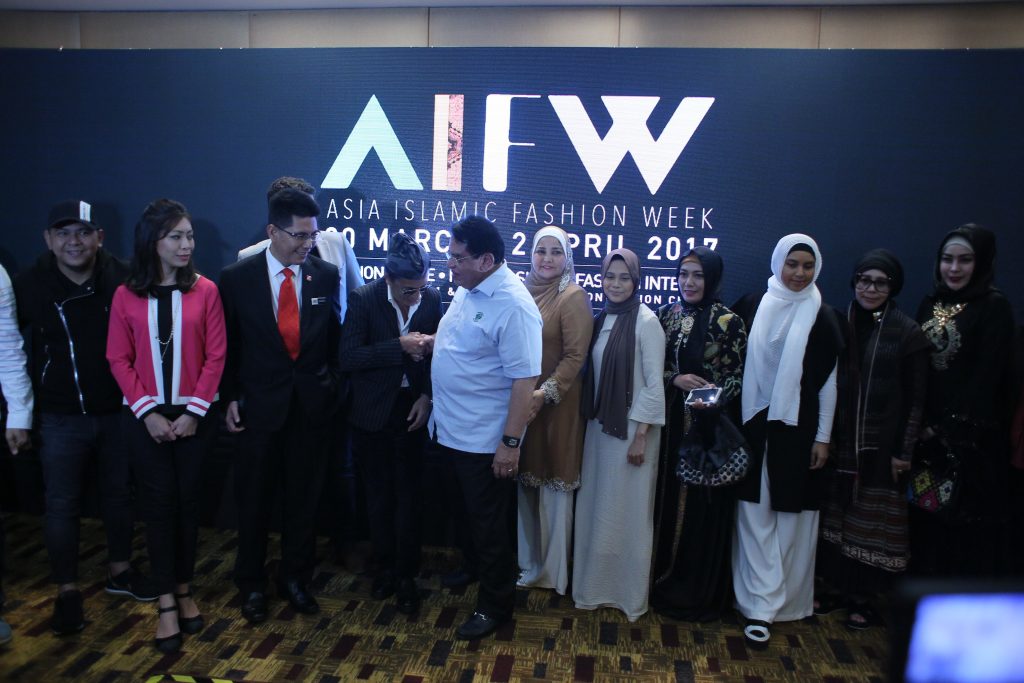 Summary: Asia Islamic Fashion Week will start in less than one day. 
AIFW Press Release: 
Inspired by the vibrancy of the Islamic fashion scene and in an effort to further expand the industry, AIFW Event is pleased to bring to you Asia's first Islamic fashion week in Malaysia; Asia Islamic Fashion Week 2017 (#AIFW2017).
It is a uniquely designed trade event aimed at showcasing the blend of modest fashion with cutting-edge style that is within the Islamic context. Malaysia is set to play host to the inaugural event from March 30 to April 2, 2017. The retail industry will convene at the prestigious Kuala Lumpur Convention Centre over (4) four days to spot the latest trends in Islamic-inspired apparel, accessories, cosmetics and resources. With the theme 'Establishing Asia As A Global Centre For Islamic Fashion'; #AIFW2017 aspires to be the most influential Islamic fashion & lifestyle marketplace in Asia by creating an avenue for the Islamic fashion business community to share their experience and knowledge.
More than 10,000 visitors, 180 exhibitors, 100 designers, 100 international trade buyers, fashion influencers, business executives, fashion photographers and the entire media buzz from over 20 countries are expected to take part in #AIFW2017.
In its first year, the event will feature three main elements; i. Fashion Trade Show A platform for sustainable and profitable Islamic fashion and lifestyle business networks; covering the trade and the public. From luxury brands, to the latest trends in modest fashion, #AIFW 2017 brings you exhibitors from across the globe. Admission is FREE.
Fashion Show Featuring the latest collections in Islamic fashion from renowned designers, top brands and independent designers from Malaysia, Indonesia, Brunei, France, Netherland, USA, Japan and UAE. Among the host of designers and brands that will be taking part includes Dian Pelangi, Corsy, Karina NG, Eja Shahril and many more.
The runway show is a must-see event! Fashion Interact Local and international speakers, academicians and investors from various fields within the Islamic fashion & trade industry will take part in the first Islamic Fashion Conference and Fashion Pitching in Malaysia.
Visitors will also enjoy various talks and workshops at the Fashion Interact segment. We will have the honor to introduce our Yand Amat Berbahagia Badawi, Malaysia's 5th Prime Minister and our world known advisor, Alia Khan Chairwoman of Islamic Fashion & Design Council. We are also very blessed and privileged to have three remarkable global modest fashion influencers in #AIFW2017:
Dian Pelangi – a multi-talented Indonesian designer, an award winner, a successful entrepreneur, and one of the most influential fashion icons in the global Islamic community with over 4.4 million followers on Instagram alone.
Mizz Nina – Malaysia's highly respected icon that continues to raise the bar with her ever-growing accomplishments in da'wah, fashion & humanitarian efforts. Whatever she does, she does it with a burning passion and commitment to her game.
Melanie Elturk – a modest fashion industry expert, a regular contributor on ELLE.com and the CEO of one of the largest U.S. brands for modest fashion with a mission to empower hijab-wearing women of the world." "In our first year and at this infancy stage, we would not have achieved this milestone if not for the tremendous support from the local government agencies, international organizations, corporate sponsors and most importantly, our valued designers and brands.
---
Goltune is editorially independent. We set our agenda. No one edits our editors. No one steers our opinion. This is important as it enables us to stay true to our values.
Every contribution we receive from readers like you, big or small, goes directly into funding our journalism. Please support Goltune, large or small.
Send your contributions to our PayPal account: [email protected]
Or, Click the link to pledge your support.
Thank you,
Goltune Editorial Team