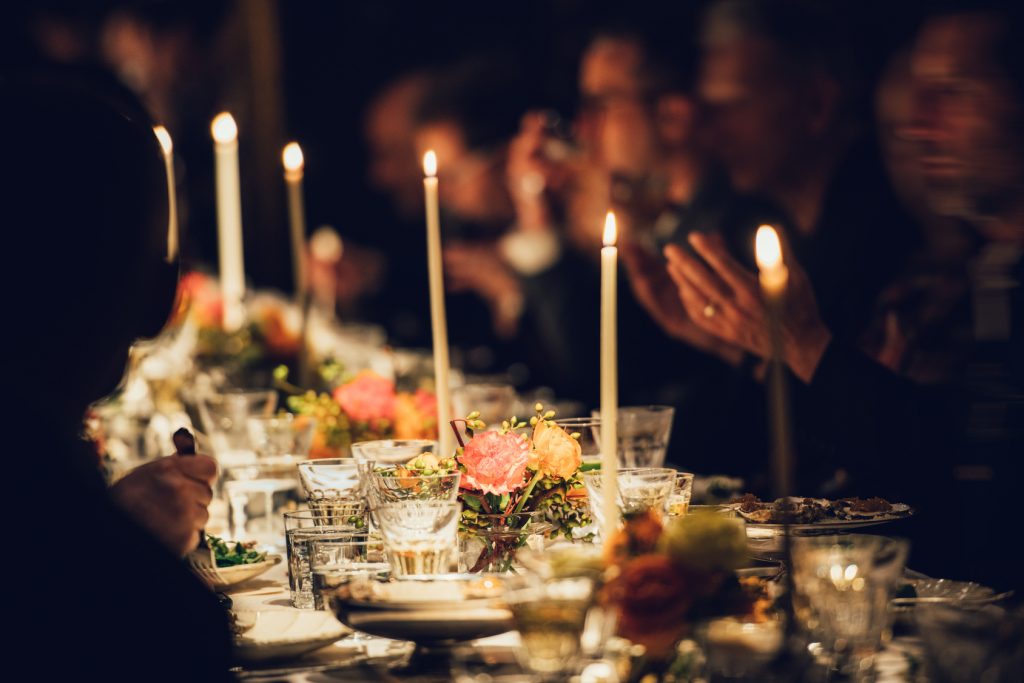 In this post you will read:
What is Thanksgiving?
Azadeh's story on her Thanksgiving breakfast table
Prayers to recite at the Thanksgiving table
It's November, and It's Thanksgiving Time
It is November. Now, people in the US  think about giving thanks for the blessing of the  preceding year during the Thanksgiving day, an old tradition that has been observed for hundreds of years in the US and Canada. With no exception, people cook Turkey for Thanksgiving celebration. Yet, as soon as the dinner is over, no one cares about the savaged Turkey that was a delight to the table a few minutes ago. One of the biggest questions, when the dinner is over, is to see  what to do with the big bird's leftovers. I know for sure that Turkey sandwich is not on my list.
Why not using some of that goodness in a healthy, warm, comfort porridge for a protein-boost breakfast before conquering the Black Friday, the day after Thanksgiving that we shop shamelessly in the US. Or else, we can use the same leftover to create another feast for family dinner. I think I got excellent recipes – both for breakfast and dinner – to share with you on how to use up what is left.
Azadeh's Breakfast Table
I love breakfast – be it on Black Friday or any other weekends. Breakfast brings back great childhood memories for both my husband and I. Even though we were raised in two different households, the experience and rituals of morning meals were the same.
During the week, the spread mainly consisted of hot tea sweetened with sugar or honey, milk, fresh Tandoori flatbread, feta cheese with walnuts, or fresh basil, mint and garden cress, or sliced cucumber and tomato, locally churned butter with honey or homemade jams. Breakfast treat on weekends would usually get more sophisticated since the whole family could join in a more relaxed fashion and enjoy the togetherness. In addition to the usual items, there were cooked dishes like lentil soup or 'Haleem' (wheat porridge) that had been slowly cooked overnight; or an impressive variety of egg combinations like garden omelet or Khageeneh (Persian version of Crêpe with rosewater syrup).
Haleem is a popular porridge-like dish in the Middle Eastern cuisine. However, the ingredients and the manner of serving slightly vary country by country. While Haleem prepared in Pakistan, Malaysia, India and Arab countries might be treated as snack sold by street vendors or only offered during holy month of Ramadan and Muharram, the Persian Haleem is mostly enjoyed during the cold season for breakfast, and with only two ingredients; wheat and meat.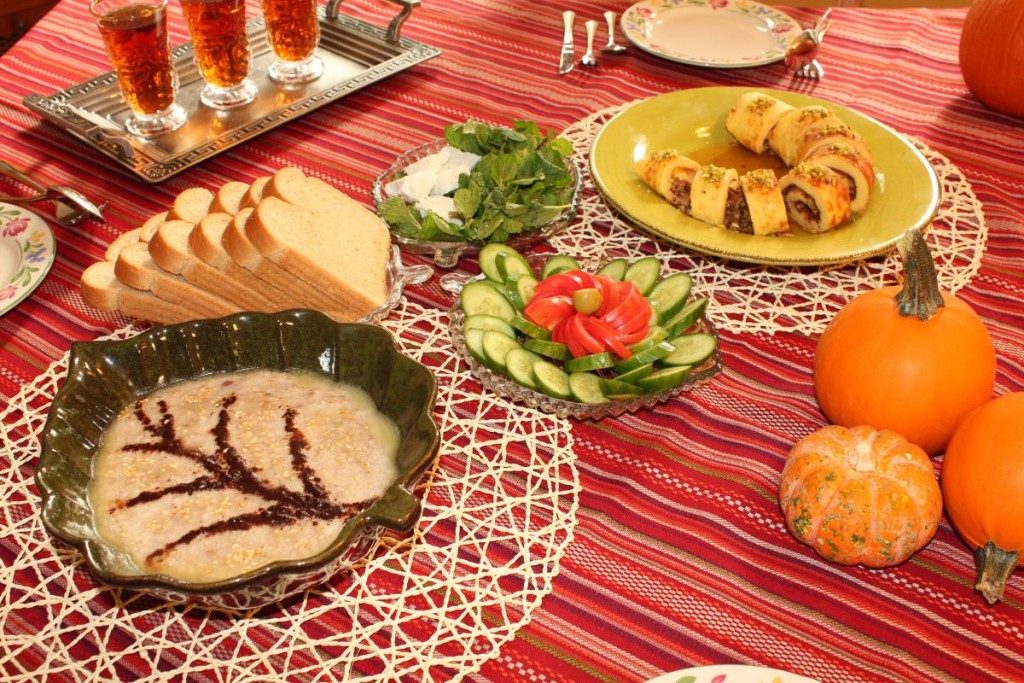 In older days, the homemade dish, such as 'Haleem', was generally prepared in large volume to feed a big crowd. Nowadays, there are restaurants in Iran that specialize in cooking Haleem the old-fashioned way, which means to cook the dish for 7-8 hours and stirring it frequently to reach its famous creamy stretchy texture. Hence, its preparation requires quite a bit of love and patience. Thanks to modern kitchen gadgets like hand-mixers and food processors, though, we can fast forward the cooking process.
In the US, we use eggnog for the Thanksgiving and Christmas parties. To replace eggnog with something middle eastern, I opted for a solid treat that is very fragrant as well as filling and nutritious. Khageeneh is an old dish that is regarded as the ultimate soul food. However, the dish is making a comeback by gaining more appeal with its vast variety among younger generations.
The closest relative to Khageeneh in European cuisine is Crêpe, and in US cuisine is pancake. But, Khageeneh is traditionally stuffed with nuts and spices or rolled. The batter consists of egg, yogurt, milk, and flour. The touch of saffron and rosewater makes it unbelievably fragrant and puts you into a festive mood right away.
Another set of dish that I am going to put on my table is freshly cut cucumbers. The combination of feta cheese and tomato slices which are packedwith antioxidants prepares the body to fight free radicals throughout the day. Spearmint is my herb of choice for breakfast. It has anti-inflammatory effects which is great to save you from upset stomach after a night of possible over-eating. For our non-American audiences, Thanksgiving is the night we are famous for eating a lot. Point taken, we, Americans, usually eat a lot, according to our sizes in the US. But Thanksgiving is such an exception that we eat even more.
These are a few famous prayers among Muslims to thank and praise Allah.
Du'a and Prayers to From the Quran to Thank and Praise Allah:
Worship Allah, and be of those who give thanks. (Quran 39:66)
Blessed be the name of thy Lord, full of Majesty, Bounty, and Honor. (Quran 55:78)
So celebrate with praises the name of thy Lord, the Supreme. (Quran 59:56)
Praise be to Allah, who has guided us to this. Never could we have found guidance, had it not been for the guidance of Allah. (Quran 7:43)
And He is Allah, there is no god but He. To Him be praise, at the first and at the last. For Him is the command, and to Him shall you be brought back. (Quran 28:70)
Then Praise be to Allah, Lord of the heavens and Lord of the earth. Lord and Cherisher of all the worlds! To Him be Glory throughout the heavens and the earth, And He is Exalted in Power, Full of Wisdom! (Quran 45:36-37)