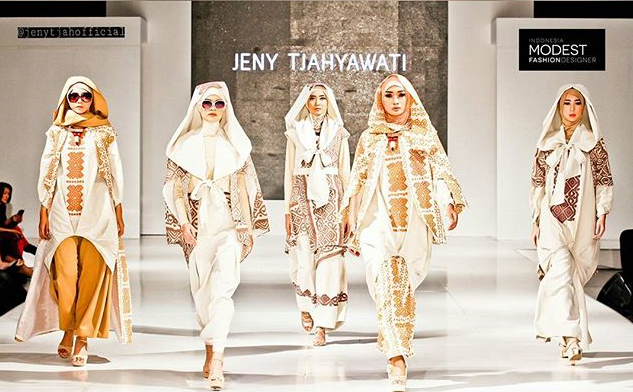 Muslim Fashion Steps into the Spotlight
Main point: Modest fashion is not an entirely a mainstream culture in the U.S. yet, the industry seems to be moving in the direction of inclusion
Source: Seattle Times
---
How Hijabi Bloggers Are Changing the Way Muslim Women May Dress
Hijabi fashion bloggers are changing the way mainstream culture views hijab and Muslim women
Souce: OPT magazine
---
Someone Who Doesn't Wear a Hijab Is Not Any Less a Muslim Than Someone Who Wears it
hijab is not the best identifier of one's Muslimhood; and it is not right to judge one based on her outlook
Souce: Mvslims
---
Modest Clothing Fair In Turkey Shows Solidarity with Women in Aleppo
One of the biggest festival for hijab fashion in Turkey is spending its revenue to support people in Aleppo
Source: Daily Sabah
---
One Trick You Need to Stay Comfortable in High Heels
3 quick tricks to use to stay on high heels
Source: AOL news
---
Was 2016 the year of the Muslim fashion breakthrough?
From France to the U.S., from Indonesia to Saudi Arabia, Muslim fashion got the world's attention in 2016
Source: AFP, Relax News
---
Iran fashion workers jailed for 'spreading prostitution'
Main point: Twelve people involved in the fashion industry in Iran are reported to have been jailed for "spreading prostitution" via images posted online.
Source: BBC News
---
Why You Should Grow Your Value as a Woman in a Fashion Driven World
Main point: Nowadays, the term "value" is heavily used in every aspect of business. The word has become so saturated that it's become a cliché word.
Source: IFB
---
5 Essential Apps for Optimal Photography on Your Smartphone
Main point: There are certain apps you can use to enhance the photo drive world around you
Souece: IFB
---
Dior pays tribute to past and present designers to fete 70 years
Christian Dior is marking its 70th anniversary by giving each of its seven head designers their due
Source: Luxury Daily
Please follow and like us: