This video was posted by Al Jazeera on September 2018 on You tube .
For designers, models, and fashionistas alike, New York Fashion Week is the pinnacle of the season. It comes with the excitement of seeing new faces strut down the catwalk and witnessing the debut collections of emerging designers.
But, this year, there is substantial buzz beyond the runway, thanks in part to Mari Malek, Grace Mahary, Halima Aden and Jillian Mercado. These three women are redefining what it means to be a fashion model. Malek, Mahary, Aden and Mercado are using their personal brands to bring attention to causes they care passionately about. Particularly, access to education, renewable energy, and disability rights.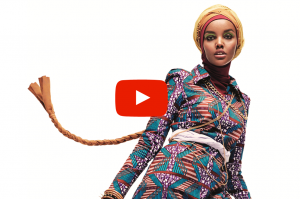 Their ability to move between the modeling and activism worlds is partly due to a shift in the fashion community.
Now, more than ever, there is an emphasis on not only creating goods, but doing good. But is this awakening a moment or a movement? Just a trend? We pose that question to Malek, Mahary, Aden and Mercado when they join The Stream to discuss fashion activism.