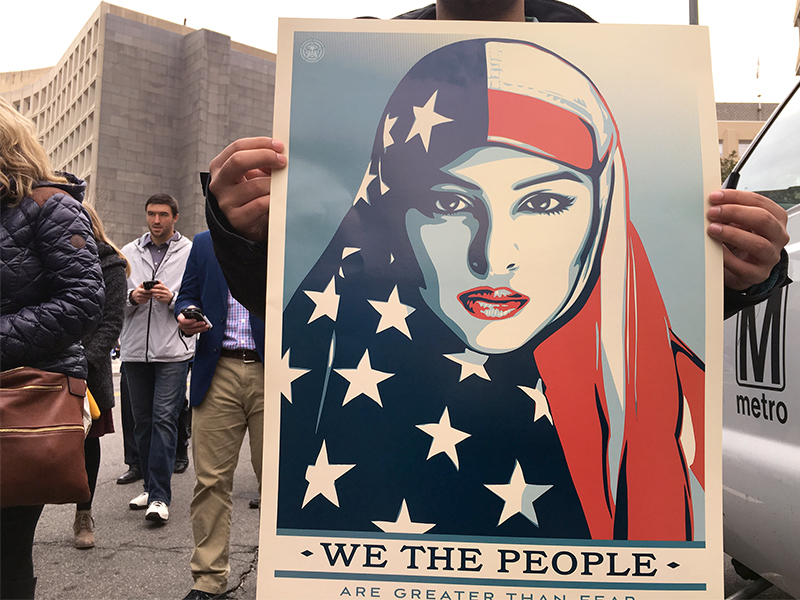 Main point: Many people, including Muslims, appeared at the inauguration in Washington DC to protest Mr. Trump's first day presidency
Source: Religion News Service
Writer: Lauren Markoe
But the 23-year-old, hijab-wearing Brooklynite wanted to be at his swearing-in. She stood in a security line for hours, surrounded by Trump supporters, because she had a message deliver. Simply put: Here I am.
"I want people to see me," Ktiri said
Baraa Ktiri, 23, from Brooklyn in Washington, D.C., on Jan. 20, 2017. RNS photo by Lauren Markoe
Just by showing up as a visibly Muslim person, she said, she reminds people that Muslims are part of the fabric of America. Donald Trump talked about Muslims on the campaign trail. Well, said the New York University graduate, here is one of the people he was talking about.
"I live in this country too and just because you don't see me everyday doesn't mean I don't exist," Ktiri said.
But she actually wanted more than to be seen. She wanted to engage.
Though Ktiri approached no one directly, she made eye contact, and kept her face open and friendly. She intended to make it clear that anyone could start up a conversation. She was hoping for questions about why she came, about Islam — anything.
Follow the story @ Religion News Service