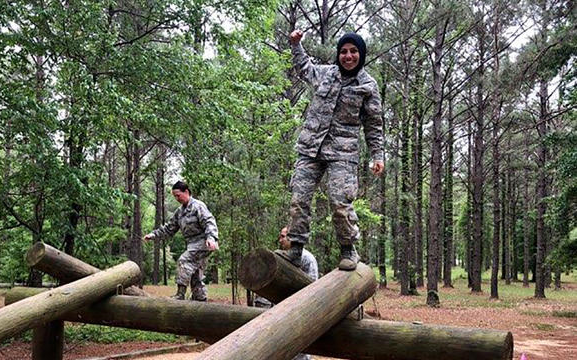 Lt. Maysaa Ouza is granted the permission to keep her hijab as the first hijabi Air Force officer in the United States.
In this story, you will read:
Mayssa Ouza, Air Force's Judge Advocate General's Corp officer, had to remove her hijab before beginning her basic training at the special camp
American Civil Liberty Union, ACLU, took her case to the federal court to gain a permission for Ouza to keep her hijab during and after the training
The Air Force granted Ouza the permission, after the court's ruling, to keep her hijab at all times before, during and after the training and throughout her assignments
The original story was published on ACLU.org
When Lt. Maysaa Ouza began her first assignment as an officer in the Air Force's Judge Advocate General's Corps, or GAG Corps,  earlier this month, it was a historic moment.
Lt. Ouza, a recent law school graduate, became the first Air Force JAG Corps officer authorized to wear hijab. Before she enlisted, the Air Force granted her a religious accommodation allowing her to wear hijab during basic and officer training and in her role as chief of legal advice at Scott Air Force Base.  The groundbreaking development was a long time in the making.
Lt. Ouza always knew that she wanted to serve her country. As the daughter of immigrants, she was called to give back by defending the very freedoms and liberties that have afforded her and her family so many opportunities.
When Lt. Ouza was in law school and began investigating her options for military service, however, there was one potential obstacle: her hijab. For Lt. Ouza, the practice of covering her hair and neck by wearing hijab reflects a core tenet of her Muslim faith. She believes that being forced to remove the head covering is humiliating and no different than being compelled to strip in front of others.
Read the full story @ ACLU.org