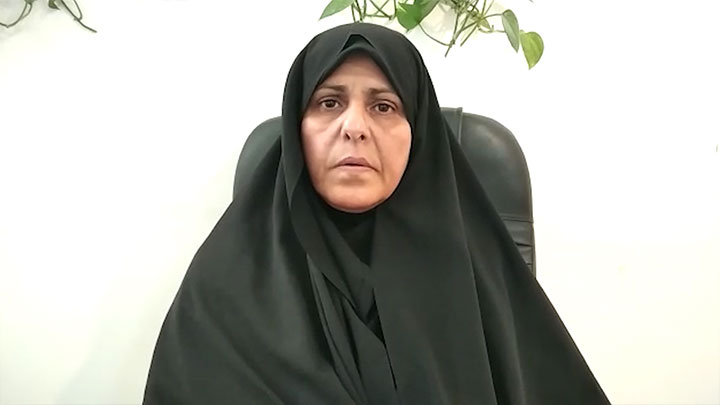 Iranian activist Fatemeh Sepehri, an outspoken critic of Supreme Leader Ayatollah Ali Khamenei, has been sentenced to a total of 18 years in prison after calling on him to resign.
According to HRANA, the news agency of Human Rights Activists, the Mashhad Revolutionary Court sentenced Sepehri to ten years for "collaboration with hostile foreign governments," five years for "assembly and collusion against national security," and one year for "propaganda against the regime." This verdict has been upheld on appeal.
Applying Article 134 of the Islamic Penal Code, ten years in prison for the first charge will be enforceable.
It was not immediately clear if the sentences would be served consecutively or concurrently.
Why Fatemeh Sepehri's arrest was significant?
Sepehri's arrest was covered by many news agencies including HRANA, Radio Free Europe, Iran International, and a few others. Attention toward Sepehri's arrest is since the Iranian government claims to have the backing of the victims of the Iran-Iraq war families. Although Sepehri's husband was killed on the battlefield during the 8-year war between Iran and Iraq, she turned her back on the totalitarian regime demanding Khamenei, the Supreme Leader's resignation.
Sepehri is one of 14 activists in Iran who have publicly called for Khamenei to step down. She has been arrested and interrogated many times in recent years.
She and the other activists have also called for a new political system within the framework of a new constitution that would secure dignity and equal rights for women.
Criticism of Khamenei, who has the last say on almost every decision in the Islamic republic, is considered a red line in Iran, and his critics often land in prison, where political prisoners are routinely held in solitary confinement and subjected to various forms of torture.
Fatemeh Sepehri was arrested before Iran's new revolution started
Sepehri was arrested by security forces on September 21, at the beginning of nationwide protests in Iran over the September 16 death of Mahsa Amini, a 22-year-old woman who was arrested by Iran's morality police for allegedly violating the country's hijab law.
Since the unrest erupted, lawmakers and security officials have threatened harsher and harsher treatment for protesters and anyone expressing dissent. Although there is abhorring news about the treatment of prisoners in Iran, critics of the government are vocal about the regime's corruption and mistreatment of its citizens, especially women.
Up until recently, the Iranian regime spared women from prisons or harsh torture. But since women took to the streets to claim their rights to free expression, refusing mandatory hijab, the regime shows no mercy to men and women.
Fatemeh Sepehri's controversial video
In a video clip posted below, Sepehri says she hopes to see the day that Ayatollah Ali Khamenei is dragged through the streets and killed like Libyan leader Qadhafi
She makes her remarks in a video taken across from the Vakil-Abad prison in Mashhad, Iran, which was posted on Irankargar on YouTube on March 20, 2021.
In the video, Sepehri says that she hopes that the new Persian year of 2022 (last year) to be a year of victory and liberation for the people of Iran. She said that she hopes that Khamenei will lose the people that are dear to him and that the Khamenei family will cry the same way that the people of Iran are crying for their loved ones lost on various military fronts.
Transcription and translation of her speech on the clip:
Fatemeh Sepehri: "Today, March 20, we are standing across from the Vakil-Abad prison [in Mashhad]. I hope that the new [Persian] year will be a year of victory for the Iranian people, and a year of liberation for Iran. I hope that just like Qadhafi was killed after being led through the streets of Libya, I will get to see the day when the same thing [happens] to Khamenei.
"Our loved ones were killed on various war fronts and everywhere in Iran, and we have not witnessed a single good day. I hope that Mr. Khamenei [also] loses the people who are dear to him. The tears I shed today, across from the Vakil-Abad prison — I hope that the Khamenei family will cry the same way. For what sin are our loved ones being held in the prisons of the Islamic Republic? I hope that Khamenei's life comes to an end."
Such strong remarks by a family member of the Iran-Iraq war are significant. On the other hand, prisoning family members of the Iran-Iraq war by the Iranian regime shows the regime's desperation to silence any opposing voices.
---
Goltune is editorially independent. We set our agenda. No one edits our editors. No one steers our opinion. This is important as it enables us to stay true to our values.
Every contribution we receive from readers like you, big or small, goes directly into funding our journalism. Please support Goltune, large or small. Thank you.
Send your contributions to our PayPal account: [email protected]
Or, contact us and let us know what we can do to deserve your support.