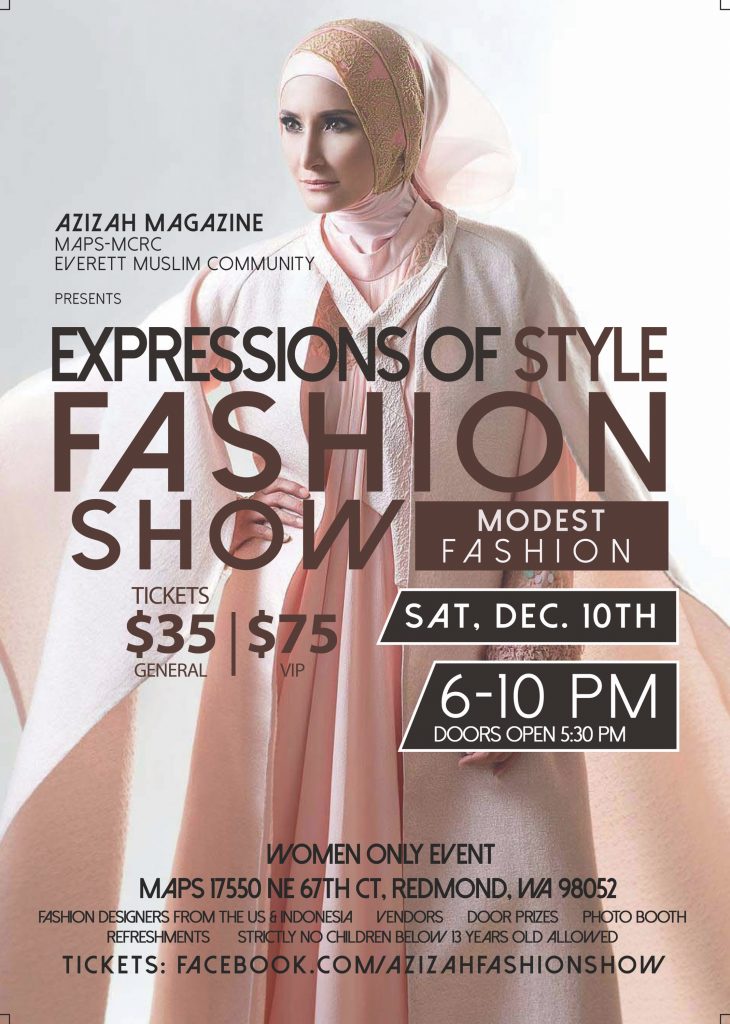 Muslim Women Runway Fashion Show in Seattle suburb – Expressions of Style (updates) 
(Redmond) — Azizah Magazine, the first U.S. based publication for Muslim women, will host the Expressions of Style fashion show on December 10th to celebrate fashionable modest and Muslim outfits from world-renowned designers of Indonesia and the U.S.. The show will take place at Muslim Association of Puget Sound (MAPS), located at 17550 NE 67th Ct, Redmond, WA.
There are 5 Indonesian fashion designers including Indriya R. Dani, Jeny Tjahyawati, Nani Oktaviani, Tuti Adib, and Aam Laurisha, as well as 3 from the US including Sabika Makhdoom, Rahma Yusuf and Anju Tariq.
Through elegant, sporty and playful designs, with a hint of ethnic, pioneers such as Jeny Tjahyawati, have shaped contemporary modest wear on the international scene.
"This show is a celebration of the Islamic faith and identity, and of the inspirational journey of entrepreneurial women in a thriving industry," said Nina Soerakoesoemah, co-founder of Azizah Magazine.
The women-only event will begin at 6 p.m. with a brief welcome speech, followed by haute couture runway shows. Each designer will showcase 10 new designs of her collection.
Attendees can purchase designs directly from vendors after the show in the Real Gems corner at MAPS. The prayer area will be available throughout the event. No children below 13 years old are allowed at the show.
Partners of the event include Muslim Association of Puget Sound (MAPS), Everett Muslim Community Center and Goltune News.