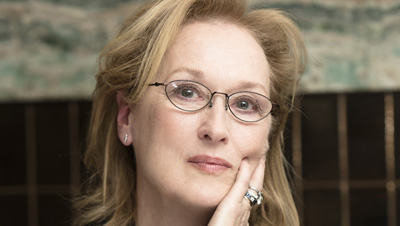 Main point: in her acceptance speech for Hollywood Foreign Press Association (HFPA) at Golden Globe ceremony, Meryl Steep criticized Mr. Trump without ever naming him 
Source: Los Angeles Times
Writer: Fabiana Repaci
Designers took to social media to lash out at U.S. president-elect Donald Trump following Meryl Streep's acceptance speech at the 74th Golden Globe Awards last night.
The actress didn't directly name the millionaire businessman, though the behavior she described made it clear she was talking about Trump. Streep was the recipient of the Cecil B DeMille Award, a lifetime award that honors those who have made an impact on the entertainment world.
In her acceptance speech, she celebrated the diversity of Hollywood's stars while recalling the incident in which Trump mocked a disabled journalist in November 2015.
"There was one performance this year that stunned me. It sank its hooks in my heart, not because it was good, it was – there's nothing good about it. […] It was that moment when the person asking to sit in the most respected seat in our country imitated a disabled reporter, someone he outranked in privilege and power and the capacity to fight back. It kind of broke my heart when I saw it and I still can't get it out my head because it wasn't in a movie. It was real life. And this instinct to humiliate when it's modeled by someone in the public platform, by someone powerful, it filters down into everybody's life because it kind of gives permission for other people to do the same thing," she said.
Follow the story @ Los Angeles Times