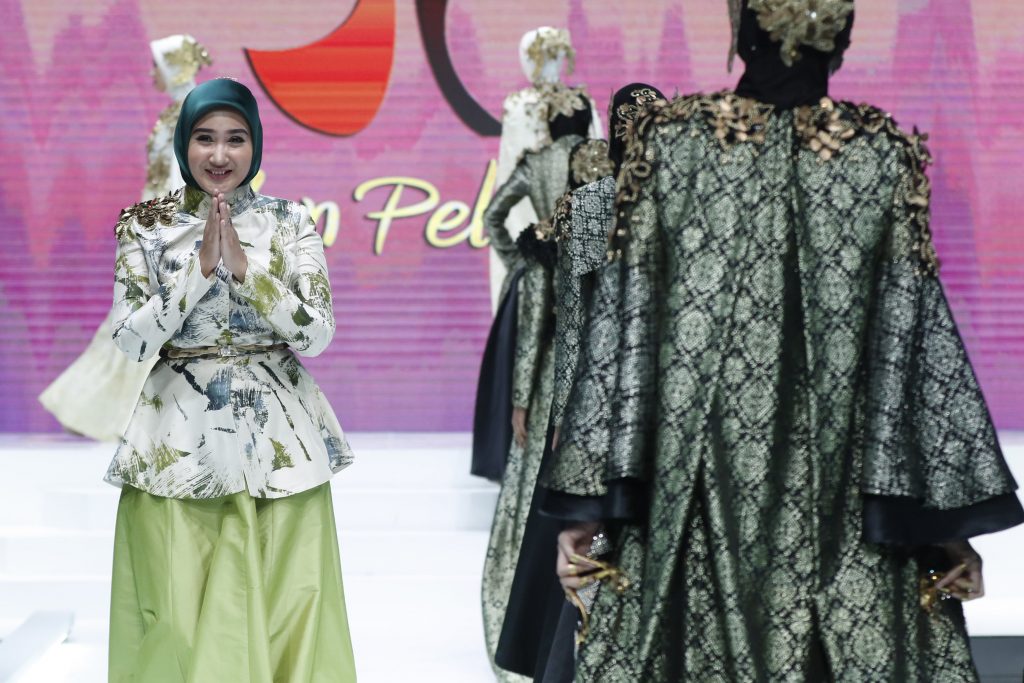 In the world of modest fashion, Dian Pelangi is a name that echoes far and wide, often associated with bold designs and bright colors.
This story is sponsored and profiled.
The Indonesian designer has been known to add a new flavor to the global Muslim fashion scene, pushing norms and traditional boundaries. Her new modernized look of modest outfits has attracted a broad demographic from all over the world. Through her influence, she is singlehandedly credited for introducing Indonesian Islamic fashion to the rest of the world.
The young designer has so far held fashion shows in London, Paris, Germany, Holland, Melbourne, Dubai, Cairo, Kuwait and Jordan.
"I pay close attention to the Islamic rules that I apply to every collection, but I don't forget about the creativity itself. Here, I can say that I combine between faith and fashion. They are two different things but I think they can be combined beautifully," Dian told Goltune.
Pelangi's Early Childhood  
Every big name a humble beginning. Dian was just born when her parents founded the brand in 1991, driven by the vision of her father, a self-made man.
Hailing from the Sumatran city of Palembang in Indonesia, she was born with the name Dian Wahyu Utami. The brand name Pelangi was chosen after the local name for the traditional jumputan, kain pelangi or rainbow cloth, which residents of this region have been wearing for centuries.
But this is just one of the multiple meanings behind this brand name. Pelangi could also mean rainbow, while Dian means light. Combined, it translates to "the light of the rainbow". For Dian, this rendition is a perfect depiction of the local Indonesian taste of vibrant colors.
Even though Pelangi started becoming more involved in the business after she finished her education, she spent her entire childhood in her family's company. Growing up between craftsmen and seamstresses, she learnt how to draw and sew from a young age.
"Because the Dian Pelangi label had operated since I was a small child, I felt like I was given a responsibility. So since I was a little girl I'd been taught how to serve customers, I learned how to make clothes. I learned how to draw and how to sew. And when I reached adulthood it never occurred to me to pursue any other field."
Once Pelangi graduated from École Supérieur des Arts et Techniques de la Mode in Paris, she started becoming more involved in managing the company. Over the years, the brand expanded to include 500 employees and 14 retail stores across Indonesia and Malaysia.
New Modest Look
Throughout her young career, the Indonesian designer has been known to add a new flavor to the global Muslim fashion scene, By pushing norms and traditional boundaries. Her new modernized look of modest outfits has attracted a broad demographic from all over the world.
Unlike many Muslims, Pelangi's fashion identity is not linked to the Gulf countries, where modest fashion is more dominated by black abayas. Instead, her designs have been known to turn typically shapeless and monotonous Islamic wear on its head by adding strong elements of traditional Indonesian culture in her collections.
"My trick as a fashion designer is to be able to do push-and-pull marketing. I have to push my character, my personality and the signature style of Dian Pelangi, but I have to pull from the tastes of the people, what types of clothes they like and what is trending," she said.
Driven by a mission to promote her own culture and Indonesian designs, the brand prides itself by its exceptional craftsmanship and the use of traditional woven fabrics. To maintain this high level of craftsmanship, each piece is handmade by artisans using ancient techniques.
"Everything is handmade so I want to show through my collection not only the beauty of modest fashion but also the beauty of craftsmanship," she said.
Pelangi Creates Modest Yet Modern Fashion 
In Indonesia, every city has its own traditional fabric. For Pelangi's hometown of Palembang, batik, tie-dye, tenum, and beadwork prevail. Of all her collections, the rainbow tie-dye is her signature, which has become so popular. This play with colors, the clash of yellow, mgenta, royal blue and maroon flowing into one another in watercolor-like gradation fading to white, has become her trademark.
Pelangi use traditional Indonesian textiles like the songket, tenum, and batik in contemporary designs. For example, the songket textiles is featured in the collection.
"I prepared one special collection called Gloradera, which means the spirit of a woman. For this, I used the songket material, which is commonly used by both Indonesians and Malaysians. So I chose this to show the unity and diversity," she said to Goltune.
Originally reserved for weddings and ceremonies, songkets used to be traditionally made from threads that have been dipped in molten gold or silver. But, with the help of her father, Pelangi managed to devise a new way to recreate this material with the weaving machine, making it more wearable and preventing the colors from running.
"If you cut a songket to make a piece of clothing the Palembangese people will be angry because it's their tradition," Pelangi explained. By creating it with the weaving machine, "we are able to adjust the cloth to make it wearable, to prevent the colors from running, to make it machine-washable and easy to care for. The fabric is thinner so that people don't feel hot wearing it."
To be continued …
All the photos are the courtesy of Diane Pelangi's Instagram Page.