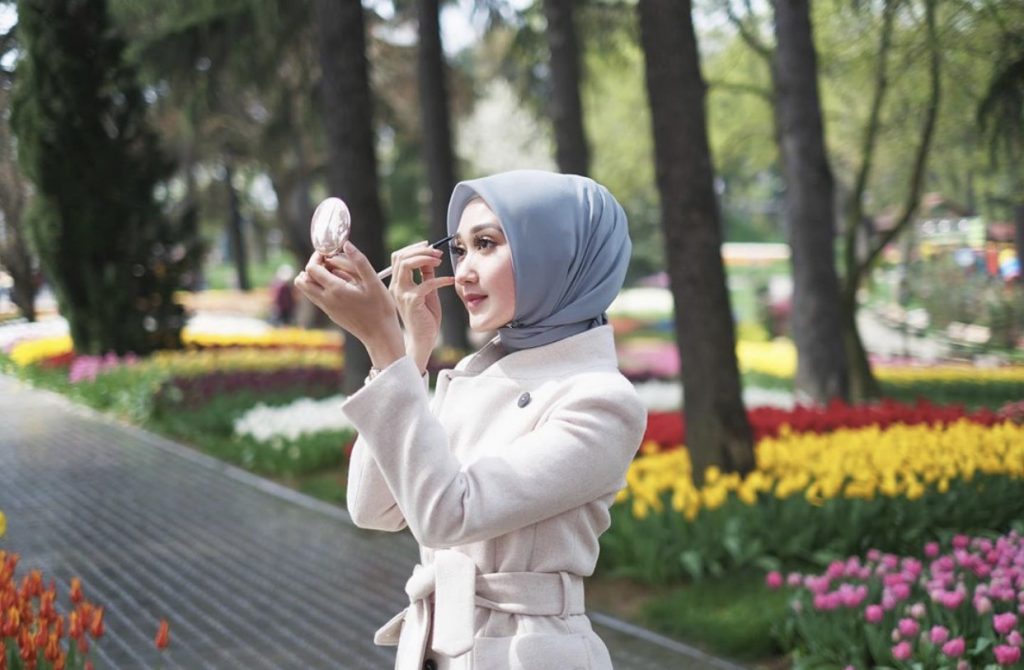 Part II
While she remains loyal to traditional Indonesian textiles, she allowed herself to get inspired by her travels to other parts of the world. Thanks to her numerous journeys, she has developed an independent view and a unique outlook on modest fashion.
"My ideas and inspiration mainly come when I am traveling. I love to meet local people and learn about their cultures so I can take it away with me and represent it within my collections," she said to the press at London Fashion Week 2016.
"Experiencing places I'm not familiar with makes a huge impact on me, not just in terms of my view of the world, but also in terms of my work and creativity," she added.
This can clearly be seen from a collection that she showed at one of the Jakarta Fashion Weeks that she participated in shortly after her graduation, featuring African-inspired batik turbans and necklaces with large beads made of billowy fashion and silk cloth color splashed with punchy jumputan.
"Just recently I was in Paris and I was inspired by the autumn flowers there. So I translated the flower into a collection called Ramadhan Rose," she said at the time.
Having been one of the earliest public figures of the modest fashion industry, Pelangi has also been playing a different role other than just designing. With close to 5 million followers on Instagram, she has become a social media influencer. Through her reach, she has managed to achieve one of her goals, to change the common misperceptions and stereotypes about Muslims and to enable the hijabi women to be more comfortable with who they are.
Through her feed, we see a different side of Pelangi; a young woman who likes to travel, snap selfies with her friends, and meet her peers at fashion shows.
She has also been named one of the 500 most influential figures in the fashion industry by the UK-based publication Business of Fashion.
Story of Modest Wear 
For years, modest wearers went unnoticed while the attention of mainstream fashion remained focused on other markets. Thus, young hijab-wearers around the world, particularly where Muslims were a minority, were struggling to find suitable outfits that could keep up with fashion trends. Options became limited to abayas and monotonous colors, leaving young vibrant women with outfits that did not express their personalities or even their age categories.
"Ten years ago, as a hijabi, I faced the constant battle to find clothing that looked good and didn't compromise my religious beliefs," British journalist Sana Sarwar wrote in an article last year.
"My wardrobe often consisted of plain, boring and oversized tops, straight leg denim jeans, neck scarfs that doubled as makeshift hijabs, and a mountain of maxi skirts I care not to count. It's fair to say I was a walking fashion disaster," she added.
Sarwar turned to social media to vent her frustration in a positive way, posting photos of unique, stylish outfits with what was available to her. Others went further by designing their own clothes.
Suddenly, these fashionable, innovative modest dressers became a source of inspiration to millions of Muslim women across the world. These women received a lot of attention and became fashion icons and sources of inspiration to their followers, marking the beginning of modest fashion influencers.
"This is really how the industry came about. It's fair to say it started out as a cottage industry with designers making dresses with a modest silhouette but with personality," Altaf Alim, commercial director for Aab, said to the press.
"Today there is lots of choice from independent designers right through to the high street. Consumer choice is always a good thing," she added.
As Pelangi was riding the wave of modest fashion influencers, her growing followership and global recognition was a turning point for her company, which had only reached a limited audience in previous years.
With hers being among the big names propelling the industry forward, modest fashion is indeed thriving with a bright future.
"I think that right now, the trend of modest fashion is rising. Even big brands started approaching this market. And I know that it will be a big thing in the future," she told Goltune.